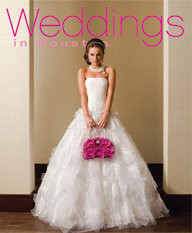 We always knew the print version of Weddings in Houston magazine was a thing of exceptional beauty. And now Graphic Design USA, the country's leading publication for design professionals, has acknowledged it, too. GDUSA just honored Weddings in Houston with a prestigious American Graphic Design Award in the "Cover Series" category. Congratulations WIH!
The award recognizes the fabulous January 2010 cover, shot at Hotel Sorella CITYCENTRE and featuring a super-chic model in a glorious Oscar de la Renta ballgown with a custom-made floral handbag from Darryl & Co, and the equally divine July 2010 cover, featuring an ethereal bride in a one-shoulder Augusta Jones gown, set in a "midsummer night's dream"-like forest.
So KUDOS, Weddings in Houston design team. We can't wait to feast our eyes on the upcoming winter issue!