We talk a lot here on the Houston Wedding Blog about how to celebrate girls and guests, but today is mainly about the guys. If you or your boo love the aroma and sophistication of fine Cuban seed tobacco, or you simply want to treat guests to the luxury of hand-rolled cigars (perhaps paired with single-malt scotch and a live jazz combo?), Houston's Lucho Cigars is gonna give you reason to celebrate.
From the bachelor weekend to the wedding after-party, we've rounded up five ways to creatively use Lucho's smooth, firm, flavorful, hand-rolled cigars at your wedding celebrations. Read on and savor!
 Photo: Civic Photos | Cigars: Lucho Cigars
1. The Bachelor Bash — Welcome your groomsmen to a weekend of hijinks with a tobacco treat that'll make each dude feel like a VIP. To make the gift a little more personal, you can pick out a cigar to fit each of your guys' taste, from Lucho's 20 different cigar types, ranging in intensity, color, size and shape. Cigar aficionados also can schedule cigar-smoking, cigar-selection and humidor-care workshops, for a unique and educational bachelor party experience at the line's Uptown Park store.
2. The Post-"I do" Photo Op — Cigars in hand (or mouth) create a celebratory feeling in both your wedding photos and at the event itself. Your pre-reception cocktail hour is the perfect time to take a puff and celebrate that you just made the most amazing commitment of your life! That cigar may also help relieve any lingering jitters you felt while standing in front of tens or even hundreds of people.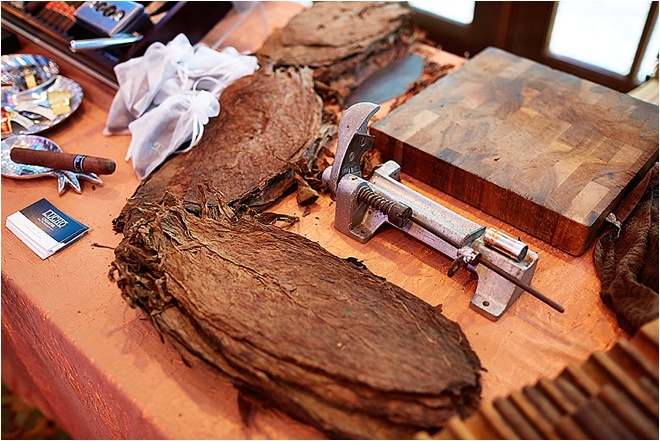 Photo: Civic Photos | Cigars: Lucho Cigars
3. An Interactive Cigar-Rolling Station — For those who aren't tearing up the dance floor, or just need to take a break, a cigar-rolling station offers a memorable and relaxing source of entertainment. Lucho's team of master rollers will create fresh handmade cigars before guests' eyes using their finest tobacco leaves, high-end wrappers and 20-plus years of experience.
4. Customized Labels — For a manlier take on the monogram, couples can request to have personalized labels created for any and all cigars in their wedding. Labels can include a couple's logo, new initials or even a photo! Think of this as the groom's way to add his touch to the wedding theme and brand.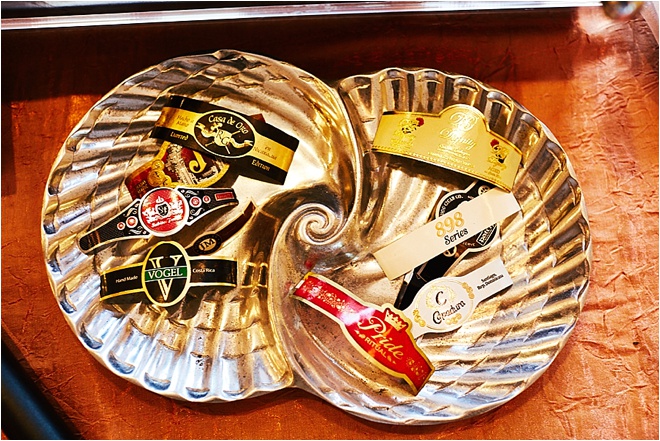 Photo: Civic Photos | Lables: Lucho Cigars
5. A Flavorful Favor — Bid adieu to your wedding guests with a flavorful cigar favor bag that they can use to celebrate your wedding after the official party has ended. Add in a tasteful ribbon or dash of your wedding colors to wrap up the night with a perfect pairing of masculinity and elegance.
Want a handmade cigar of your own to celebrate your perfect day? Contact Lucho Cigars and get on their books. Be sure to let them know you heard about them from their fans at the Houston Wedding Blog!