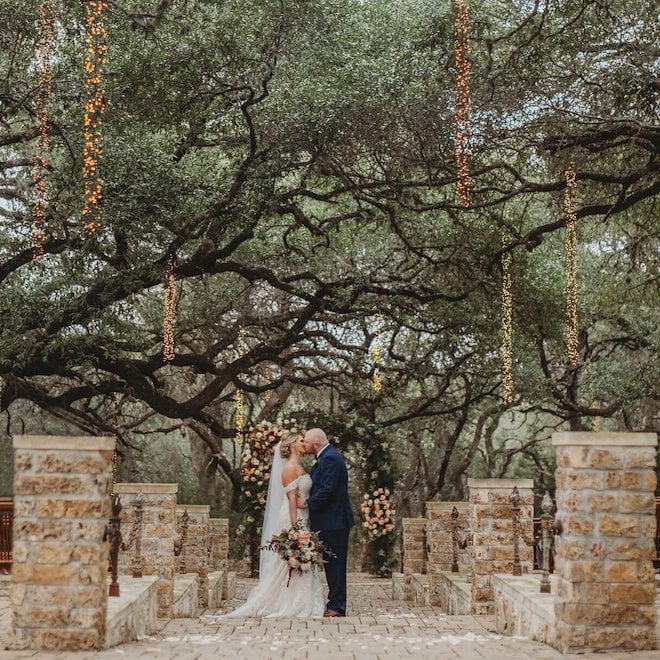 Spanning 10,000 miles of rolling hills dotted with winding rivers and sparkling lakes, the Texas Hill Country is one of the state's—and, more recently, the entire nation's—favorite spots for easygoing, elegant, fun-filled destination weddings. And it's easy to understand why. First, there's the expansive green landscape, which becomes a riot of color each spring when Indian paintbrushes, buttercups and much-beloved bluebonnets cover the gentle rises of this scenic region. Then there are the quaint towns, filled with gracious inns, lovely shops, barbecue joints and brewpubs, and tons of historic sites, from legendary Texas dancehalls to 19th-century farms to mansions-turned-museums. The Texas wine country, meanwhile, continues to grow in popularity (and in wine quality), with many wineries offering tours, tastings—even on-site accommodations, and private-dining options for unique rehearsal dinners and engagement parties. 
But it's the wide range of wedding venues in the Texas Hill Country that are the real draw of this coveted destination. Looking for a picture-perfect historic colonial chapel, complete with an antique wedding bell? Does your dream reception take place inside a gleaming grand hall, with soaring ceilings, sparkling crystal chandeliers, and a dance floor as big as all of Texas? Maybe you're envisioning a resort-style wedding, with championship golf, tons of activities to entertain your guests, and a luxurious on-site spa, where you and the girls can relax and reconnect? You'll find all of these, plus proximity to San Antonio and Austin—two of the state's liveliest, most fun-filled cities—at these 4 gorgeous Texas Hill Country wedding venues.
1. Camp Lucy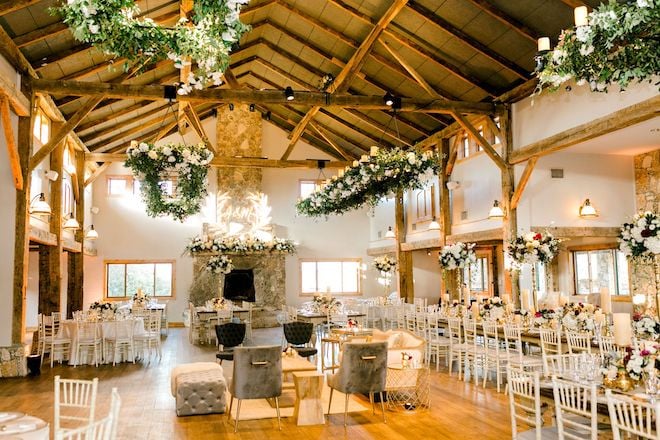 Tucked away on an idyllic Texas Hill Country ranch in Dripping Springs, Camp Lucy provides a storybook wedding experience with the rolling hills of Central Texas as your backdrop. The 289-acre property is home to four unique venues: Ian's Chapel, Sacred Oaks, the Vineyard at Camp Lucy and Whit's Inn. Ian's Chapel features a 19th-century French colonial chapel, a charming Event Hall and a dramatic, open-air Pavilion. Whit's Inn provides a more intimate, rustic celebration space in a repurposed barn venue situated near Onion Creek. At Sacred Oaks, the ancient oak trees are enveloped with thousands of tiny lights to create a truly magical outdoor ceremony site. Lastly, the Vineyard is a working vineyard at Camp Lucy where you can tie the knot surrounded by grapevines followed by a tented reception in the 88-foot Savannah Sperry Tent. Camp Lucy also offers luxury accommodations to enjoy a destination wedding weekend filled with exploring Hill Country attractions such as wineries and breweries.
2.Omni Barton Creek Resort & Spa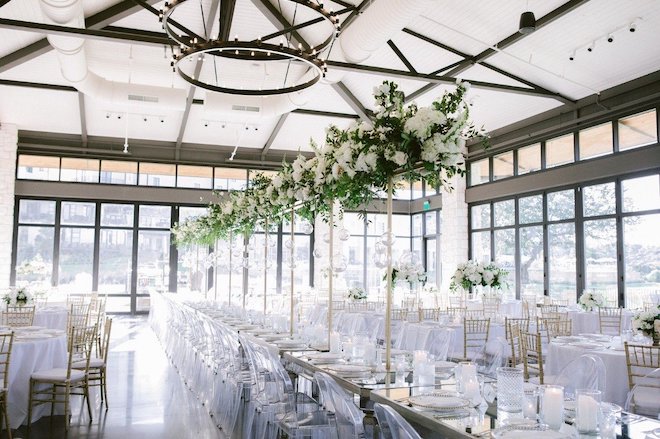 Set on 4,000 picturesque acres just a stone's throw from the lively bars, acclaimed restaurants and countless live-music venues of Austin, Omni Barton Creek Resort & Spa is an outstanding spot for your luxurious, all-in-one Hill Country wedding celebration. This property has it all—including gorgeous resort pools, the sublime 13,000-square-foot Mokara Spa, no fewer than seven different on-site eateries, and four world-class golf courses. The resort's newly added Hill Country Pavilion is a true indoor-outdoor event space, with seamless access to two sweeping event lawns, perfect for cocktail hour in the Hill Country. And with its 24-foot-high ceilings, sleek paneling and magnificent modern light fixtures, the new Brazos Ballroom can accommodate destination wedding groups of up to 895 guests!
3. Ma Maison
Combining the warmth of home with European-inspired elegance, this Texas Hill Country wedding venue is aptly named Ma Maison, meaning "my home" in French. The moment you and your guests step foot on the sprawling green grounds you will be warmly greeted with Southern hospitality and feel as though you have been transported to southern France. This Texas Hill Country wedding venue boasts a grand indoor reception site in the Great Hall, a 4,000 square foot event space featuring exposed wood beams, crystal chandeliers and antique French accents. Seeking to exchange vows surrounded by the natural beauty of the Hill Country? Nestled on 23 acres in the wine country, Ma Maison offers three picturesque outdoor ceremony sites where you can say "I do" under a grove of live oak trees, against a lakefront backdrop, or in a reclaimed antique French gazebo.
4. Hyatt Regency Lost Pines Resort & Spa
Wed in Hill Country style amidst a backdrop of Texas scenery and experience a relaxing destination wedding weekend at Hyatt Regency Lost Pines Resort & Spa! With over 300,000 square feet of event space, this Texas Hill Country wedding venue provides an array of indoor and outdoor celebration sites. From outdoor climate-controlled pavilions overlooking the Colorado River to grand and elegant ballrooms, you're sure to find a venue that best fits your style. Hyatt Regency Lost Pines Resort & Spa offers endless possibilities to keep your guests entertained across its 405-acre property such as a full-service spa, 18-hole golf course, horseback riding, archery and much more!