For a hotel that gets its name from an oil rig, Houston's Hotel Derek—Derek = derrick…cute, right?—is about as far from gritty as you can get. In fact, the gorgeous Galleria-area boutique property is the very picture of urban sophistication. From its gleaming black granite lobby floors to its ultra-hip terrace and splash pool to its decadent down bedding, Hotel Derek beckons guests to relax and indulge in a true cosmopolitan experience.
And today, we're beckoning you to ENTER TO WIN a totally indulgent $1,000+ Hotel Derek "Life is Suite" overnight romance package for 2!! One very lucky Houston bride-to-be will score herself and her sweetheart a sweet Hotel Derek getaway that includes Friday- or Saturday-night suite-level accommodations for 2 (including parking), Champagne and chocolate-dipped strawberries upon arrival, and breakfast in bed. Um…awesome, right?
Entering our giveaway is super easy; HERE'S HOW:
TO ENTER:
1.)  Like Weddings in Houston on Facebook—if you haven't yet, that is.
2.)  Email us your name, fiancé's name, Houston wedding date, reception venue (booked or hoped-for).
3.)  Entry emails MUST be received NO LATER THAN FRIDAY, AUG. 16.
4.)  Winner will be notified by WEDNESDAY, AUG. 20 and announced on Facebook.
Oh, and Hotel Derek isn't just an amazing place to escape it all in citified style—it's also an amazing place to have your WEDDING. Just ask style blogger Rebekah Gullo, who tied the knot there last year! So we're doubly delighted to offer this sweet deal to ALL Houston brides to be: Book your Hotel Derek wedding ($15,000 minimum food & beverage) by Dec.31, 2013, and mention Weddings in Houston, the Houston Wedding Blog or the Weekly Wedding Buzz e-newsletter at booking, and your complimentary wedding-night guest room will be upgraded to the lavish Presidential Suite (based upon availability at time of booking). Congratulations!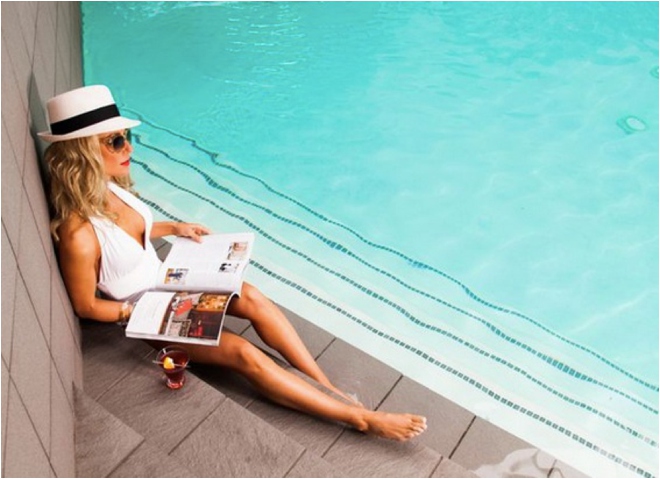 Photos: Hotel Derek