---
5 Priceless Ring-Buying Tips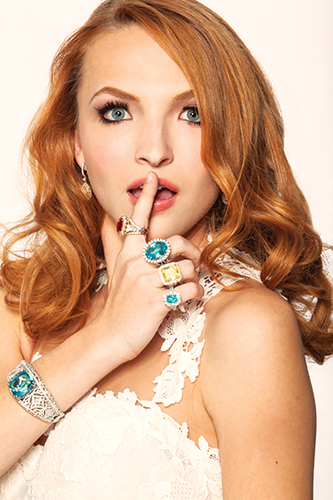 Photo: Larry Fagala | Jewelry: Nazar's Fine Jewelry | Styling: Summar Salah | Makeup: Victoria Callaway | Hair: Dennis Clendennen
Part glorious accessory, part profound symbol, your engagement ring and wedding band are likely to be the two pieces of jewelry you'll never be without. Do yourself a favor and don't invest in these treasures without reading this advice first.
1. Make sure your mate knows what kind of ring you think is great
If you're like many of today's couples, you both will be involved in the engagement-ring selection process. Perhaps that means looking in magazines or online at styles and settings you admire, or visiting your jeweler together to pick your perfect ring. It might even mean creating the engagement ring together, with the help of an experienced jewelry designer.
But even if you prefer an element of surprise, you'd be wise to let your future spouse know what kind of ring will make your heart sing. You can point out rings and diamond cuts you like in store window displays (they don't have to be engagement rings, just rings you think are beautiful), comment on friends' rings you admire, and discuss basic ring essentials like center-stone cut options and metals, since these are the major elements you'll see when you look at your engagement ring.
If you have your heart set on wearing a family heirloom that's been passed down through generations, make sure your spouse has that ring handy to slip onto your finger when the moment is right. And if you plan to update or change that heirloom ring, or shift its treasured gems to a new setting, give yourselves plenty of time (three to six months) to complete your ring redesign before you wish to wear it.
2. Focus on your center stone
It's the most valuable part of your engagement ring—as such, it should be the one you pay closest attention to. Many couples opt to select a loose diamond as their center stone, then build the ring around that knockout sparkler. Purchasing a loose diamond allows you to get the most bang for your buck, since you can start with the shape you prefer, and make your concessions in other diamond features—carat, clarity, color, cut…the classic "4 C's" of diamonds—from there, until you settle on the most valuable, most dazzling stone for your budget.
Those 4 C's will be assessed and documented by a qualified gemologist using the standards of a well-respected certifying organization, most likely the Gemological Institute of America. When selecting a diamond, ask your jeweler to see the GIA lab report on the stone of your choice, and feel confident knowing that all your diamond's information is stored in the organization's database. Because just like a diamond, a diamond's lab report is forever.
3. Same-sex couples: Do the ring thing that's right for you
There's no such thing as a gay wedding ring. But that doesn't mean that the tradition of proposing with an engagement ring or exchanging wedding bands must be exactly the same for same-sex couples as it is for hetero pairs.
If you've always dreamt of the classic, down-on-one-knee, surprise proposal moment, then by all means, go for it—after all, this is your once-in-a-lifetime occasion. However, if like many modern couples you prefer to choose a ring—or rings for each of you—together, then make that one of the most enjoyable parts of your pre-wedding protocols.
How you plan to wear your rings after the wedding will play a role in what kinds of rings you choose. If one spouse intends to wear an engagement ring with a center stone, and a traditional wedding band, both on one finger, and the other spouse prefers a no-stone engagement ring and solid-metal band, worn on two different hands, select your rings accordingly.
Whatever rings you choose, and however you choose to wear them, make sure you purchase your rings from a jeweler who respects your marriage union, shares in your happiness, and has the skills and flexibility to meet your specific ring needs.
4. Choose a ring you'll love for live by choosing one that fits your lifestyle
First and foremost, your engagement ring needs to fit you flawlessly. To ensure that it does, schedule fittings for when you are well rested (but not first thing in the morning, when you're most likely to retain water) and when your body is at a comfortable temperature—not too hot, not too cold.
Also, while you may want to go for the biggest, most spectacular diamond you can afford—this is your engagement ring, after all—an excessively expensive ring may end up being a source of anxiety rather than admiration. Will you constantly worry about losing it? Will you perpetually be afraid of having it stolen? Will you be frantically inspecting it throughout the day to ensure all the stones are in place? This should be one of the happiest occasions of your life, so choose a ring that won't compromise that joy with the burden of worry.
If you're active—an avid swimmer or intrepid rock-climber, or even an aficionado of twice-weekly hot yoga—make sure your ring fits snugly enough to move with you. You'll also want to consider your daily activities and leisure-time hobbies. Do you like to garden? Are you a committed crafter or knitter? Do you play an instrument? All of these might factor into the style, shape and size of the ring you choose. A solitaire ring with a highly raised stone, for example, might be tricky to fit inside gardening gloves, or might tend to snag on yarn. Select a ring that will go where you go and do what you do, so that you don't have to worry about removing the ring you love in order to do the things you love.
Insuring your engagement ring or center stone is an excellent way to protect your investment and secure your peace of mind. And if you're still inclined to fret over your ring, consider having a less-expensive copy made, with faux gems, to take with you when you travel—while your original remains ensconced in a locked safe, a bank safety-deposit box or private vault.
5. Two unique hands, two unique bands
Your wedding bands, those precious rings you'll exchange at the moment of "I do," represent the bond between you two. But they don't need to match in order to show what a great match you are.
If one of you loves industrial-elegant titanium, and the other craves warm, glowing yellow gold, that is A-OK. You're getting married, yes, but you are still individual people with unique opinions and preferences, especially when it comes to an item that you will wear on your body, day in and day out, forever.
If one of you tends toward the contemporary and cutting edge, and the other has a passion for all things vintage, work with a jeweler to design the perfect modern band, while at the same time scouting estate sales, auctions and vintage-jewelry-sellers for the antique you seek.
To bring your two bands into harmony with one another, and make them special to both of you, engrave the inside of the bands with a meaningful inscription—a loving phrase you both use, or the date of your wedding, perhaps.
The very fact that you'll exchange these symbolic bands on your wedding day is what counts most. The rest is icing on the cake.
You Might Also Like