Oops! It looks like the event you are looking for is no longer available. Here are a few way we can help you plan your wedding:
Look at the list below for our upcoming shows + events.
Begin searching for a wedding professional to help you plan your wedding.
Look below at some of our recent articles.
Shows + Events
---
Houston's wedding scene is hot. Share or RSVP to these Houston wedding shows!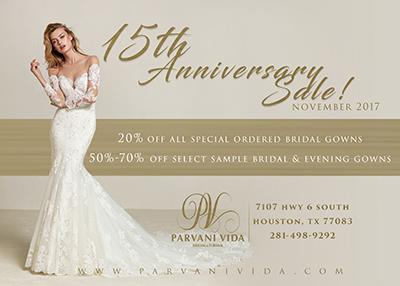 Thursday, November 2 - Thursday, November 30, 2017 | 10 AM - 6 PM
Join Parvani Vida Bridal and Formal for a 15th Anniversary Sale! Receive 20% off special-ordered bridal gowns and 50-70% off select evening gowns and sample bridal gowns during the month of November. Please call 281.498.9292 for more info.
Parvani Vida
7107 Hwy 6 South
Houston TX 77083 (Map)
Facebook | Twitter
Add To Calendar
Monday, November 20 - Saturday, November 25, 2017 | 10 AM- 5 PM | By Appointment
Join Joan Pillow Bridal Salon for a huge sale! Enjoy a selection of beautiful gowns at 50% - 70% off by designers such as Oscar de la Renta, Monique Lhuillier, Romona Keveza and more! (Please note that we are closed Thanksgiving Day.)
Call 713.622.1122 or schedule an appointment online.
Joan Pillow Bridal Salon
4001 Westheimer
Houston Tx 77027 (Map)
Facebook | Twitter
Add To Calendar