Of course, everyone wants to be in tiptop shape when walking down the aisle on their wedding day, but determining exactly how to achieve that look can sometimes be as challenging as the pre-wedding workouts themselves! Every body type is different and requires personalized attention in order to look simply ravishing in the wedding attire of your choice. Lucky for you, we've got a direct line to certified personal trainer and nutritionist Rebekah Bray, the body and brain behind Houston's beloved BE a 10 Fitness, and we're bringing you her individualized workout plans for a variety of different wedding dress styles. Read on, lovelies!
Photo: Courtesy of BE a 10 Fitness
A recent bride herself, Bray creates custom training regimens and nutrition plans for brides, grooms and the entire wedding party. Whether you're a fitness fanatic, or looking to up your game, Bray has a regimen to help you look your best.
Take a quick look at these exercises Bray recommends for three of our favorite bridal gown styles. And in case you missed our 4/20 Facebook Live broadcast, we've posted it below for demos of each workout!
Photo: Steve Lee Photography | Gown: Stephen Yearick from Weddings by Debbie
A-Line & Ballgown Wedding Dress: These exercises focus on toning your arms, core and chest to get rid of any unwanted flab or "batwings" before slipping into this classic wedding look!
Elevated Pushup with a Shoulder Tap: 3 sets of 10 reps each

Start in a plank position.
Lift one leg at a time onto an elevated surface. Make sure the top half of your foot is secure on the surface and your wrists, elbows and shoulders are aligned.
Slowly lower down into a pushup. Come back up.
Stabilize yourself while pulling your core tight and lift one hand at a time off the ground to tap the opposite shoulder. Repeat.

Front-Lateral Raise: 3 sets of 15 reps each

Position dumbbells on the sides of your thighs, with palms facing inward and elbows straight or slightly bent.
Raise dumbbells forward and upward until your arms are horizontal and parallel to the ground. Lower and repeat.

Chest Fly with Elevated Legs: 3 sets of 20 reps each

Lie down on a mat with a dumbbell in each hand with your arms up in the air and the palms of your hands facing each other.
Either with bent knees or straight legs, lift your feet until you feel your lower abs tighten.
With your elbows slightly bent, lower your arms out to the sides creating a T-shape until you feel a stretch in your chest muscles. Raise your arms and bring your hands back together. Repeat.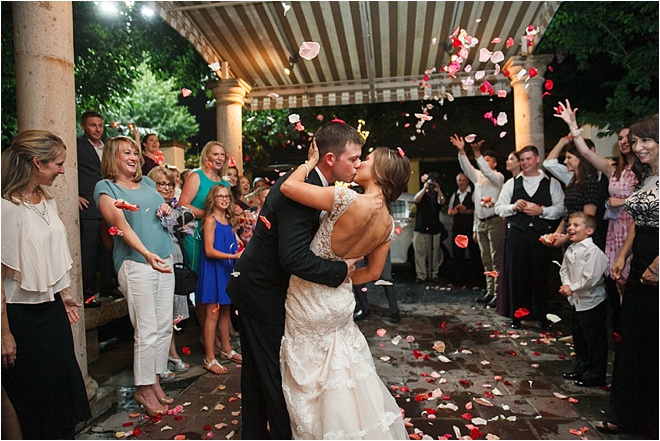 Photo: Serendipity Photography | Gown: Brickhouse Bridal
Trumpet/Mermaid/Drop Waist Wedding Dress: These exercises focus on your hips, thighs and butt, which will all be emphasized with this sexy wedding dress style. With a few arm exercises mixed in, brides will also look their best in strapless options.
Kettlebell Swing: 3 sets of 20 reps each

Start in a squatting position with your hips pushed back, chest upright and both hands on the kettlebell handle.
Stand with feet shoulder width apart.
Slightly bend your knees and use power from your legs and biceps to jerk and then swing the kettlebell rapidly until your hands are about eye level and you have reached a standing position.

Reverse Lunge: 3 sets of 10 reps per leg

Take a big controlled step backward with your left foot.
Lower your hips so that your right thigh becomes parallel to the floor, with your right knee positioned directly over your ankle.
Your left knee should be bent at a 90-degree angle and pointing toward the floor with your left heel lifted.
Switch legs and repeat.

Squat Hammer Curl Press: 3 sets of 15 reps each

Start in a standing position and squat down by pushing your hips back, as if you are sitting in a chair. Lower down as far as you can go and keep your chest up.
At the same time, hold dumbbells in each hand with your palms facing toward your body. Perform a curl with palms still facing inward as you lower down in a squat position.
Press up to return to a standing position and lower arms to return dumbbells to your side.
Once in a standing position, press the dumbbells straight up in the air with the palms of your hands still facing inward. Note: Keep your elbows narrow and in line with your shoulders.
Perform this exercise in one fluid motion. As you squat down, hammer curl up. Once returning to a standing position, perform a shoulder press and repeat.
Photo: Philip Thomas Photography | Gown: Joan Pillow Bridal Salon
Sheath Wedding Dress: These exercises crush your arms, core, legs, shoulders and more. The draping of a sheath dress may seem simple, but it requires a rocking bod underneath in order to look fabulous.
Pushup Plank Alternating Front Raise: 3 sets of 10 reps (10 pushups/10 raises = 1 set)

Start in a plank position.
Perform 10 pushups.
Immediately alternate lifting each arm out in front of you 10 times at head height.

Crab V-touch: 3 sets of 15 reps

Sit on the ground with your feet extended in front of you.
Place your hands on the ground – fingers pointing toward your feet — and lift up into a crab position.
With your body lifted up, reach your right hand toward your left foot and touch.
Place opposite hands and feet back on the ground. Alternate and repeat. Do not lower down from crab position until you have completed all reps.

Single Arm Row: 3 sets of 15 reps (each arm)

Stand near a flat bench and place dumbbells on either side.
Put your left knee up on the back end of a flat bench and then place your left hand toward the top of the bench. Your torso should be parallel to the bench with your arm, shoulder and wrist aligned.
Your right leg will be on the ground stretched out (knee slightly bent), not directly beside the bench but a few inches away.
Grab the dumbbell from the right side of the bench in your right hand and allow your arm to hang.
Pull the dumbbell up with your palm facing your body, bending your elbow until the dumbbell is between your chest and right shoulder. Squeeze your shoulder blades while maintaining a flat back and stable body. Keep your elbow close to your body.
Extend your arm back down and repeat.
Ready to achieve your wedding goals? Book your "FIT to BE a MRS," "Bridal Bootcamp" or other wedding packages with BE a 10 Fitness today! And be sure to tell Rebekah you found her awesome exercises on the Houston Wedding Blog.