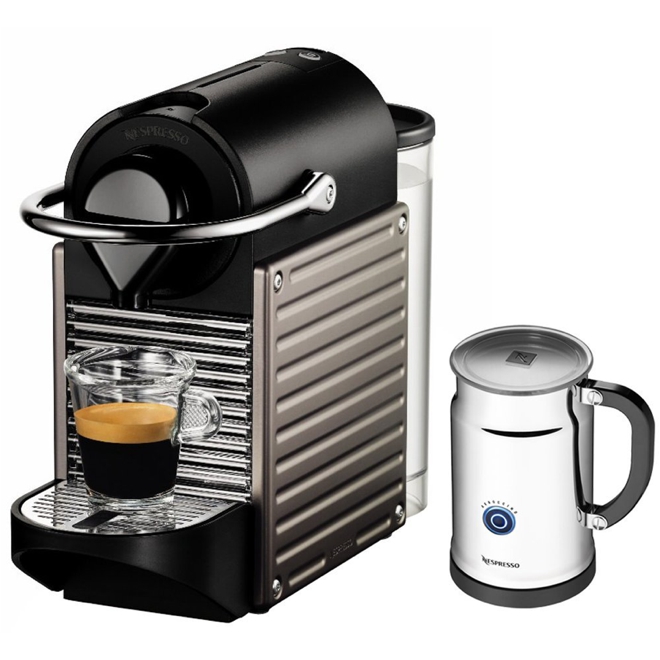 Photos: Nespresso
Iconic local retailer and wedding-registry fave Kuhl-Linscomb calls Nespresso's coffee-maker designs "modern and minimal" and the coffee these chic machines produce "absolutely wonderful." Reviewers @ beloved wedding-registry landmark Williams-Sonoma call Nespresso's Pixie Espresso Maker "the best," "the ultimate espresso machine" and "worth every penny." Naturally, we could not agree more. That's why we are so thrilled about this week's delicious Nespresso giveaway!!
Purchase your tickets to the April 11 I Do! Bridal Soiree at The Corinthian and you could WIN a fabulous Nespresso Pixie Steel Lines espresso maker AND ultra-handy Nespresso Aeroccino Plus milk frother—almost as perfect a pairing as, well, you and your Mr. Right.
That Nespresso Pixie Steel Lines machine? It'll sit on your kitchen counter turning out rich, delicious Nespresso coffee in 25 seconds flat, and looking sleek and gorgeous while doing it. Got milk? Pop it into your Nespresso Aeroccino and heat it up or turn it into creamy, yummy foam almost instantaneously. This $329 combo is so compact, you can even take it with you on a weekend getaway!
To enter our Nespresso Pixie Steel Lines & Aeroccino Plus giveaway, simply reserve your tickets to the April 11 I Do! Bridal Soiree—our most sumptuous showcase of the entire year and a MUST ATTEND for luxury-seeking Houston brides—by 11:59 p.m. Sunday, March 24. All brides who purchase tickets by entry deadline are automatically entered to win; winner will be notified next week and announced at I Do! @ The Corinthian on April 11.
Good luck, brides—and don't forget to visit Kuhl-Linscomb and Williams-Sonoma at the I Do! Bridal Soiree. For a full list of exhibitors at our April 11 showcase, click here!