What could be more perfect than a dreamy, dewy, snow-white wedding bouquet? It's the perfect accompaniment to a white bridal gown, and white is never going to look dated or misguided when you're mooning over wedding photos with your kids (and theirs) decades down the line.
But those tight, white bundles of perfectly uniform blooms all perfectly tied are so perfectly…perfect. Maybe too perfect. How about introducing a little contrast to kick up the white a notch? How about adding a feathery touch or a flutter of wings? How about checking out these examples of gorgeous white (but not quite) bridal bouquets we've picked just for you?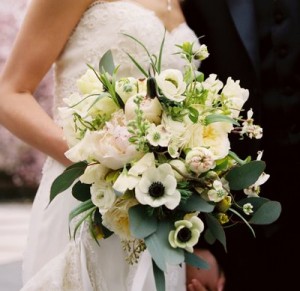 Black-centered anemones, fragrant eucalyptus and pops of palest pink and yellow give this loosely arranged bouquet a beautifully organic feel.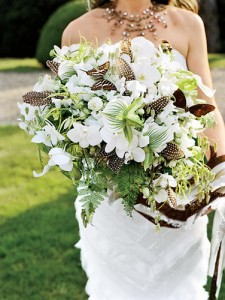 How can you not love this whimsical white bouquet—those green-striped orchids and graceful fern fronds, those joyful butterflies and spotted brown feathers? Thanks to the always-delightful Austin Wedding Blog for sharing this one!
And speaking of feathers, here's a completely different way to use them in your white bouquet. Very glamorous, but somehow sweet and demure at the same time.
Another take on the white-offset-by-black theme. Imagine this sophisticated bouquet paired with a black ribbon belt, or black bridesmaids' dresses. So chic!
Of course, sometimes less is more. Especially in the case of simply tied, naturally sculptural white calla lilies (like these from Chicago's Fleur), and nuthin' else. Fifty years from now, the image of these will resonate as elegantly as the real thing does today.