With the acres of white organza, and all the frilly finery and pretty flowers and ceremonial gravitas, we sometimes forget that being a bride is just, well, sexy. Under all that white wedding stuff, after all, lies a woman passionately in love. Houston Boudoir Photography's Norma Schutt makes it her mission to capture that passion in pictures. Pictures that just may be the best gift your groom could possibly get…besides the real thing, in the flesh, of course.
We tapped into Norma's know-how for an inside look at what to expect, what to wear and how to pose for your bridal boudoir photographs (hint: that come-hither pout takes PRACTICE!), plus lots more great input on the sexy side of bridal.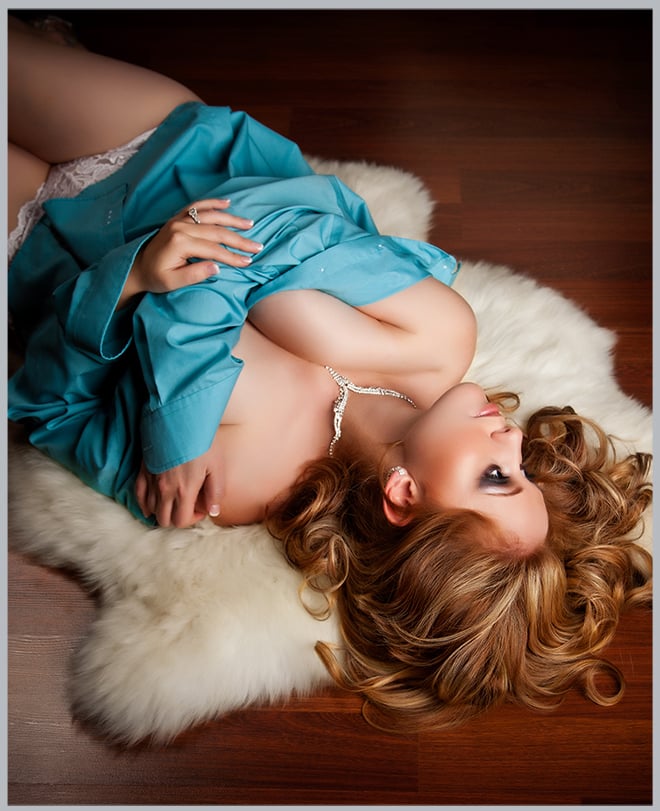 Houston Wedding Blog: What's the idea behind bridal boudoir photographs?
Norma Schutt: It's fun! It's also a very cool way for a bride to surprise her groom with a peek at her passionate side…and bring out the passion in him. Every woman wants to feel like a supermodel. Brides have usually been dieting and exercising to look their best on their wedding day. Doing a boudoir photo session a few weeks before the big day is a way to always remember how fantastic they looked. And surprising your groom with a boudoir album is a lot more fun and personal than cufflinks! It's the perfect gift for the man who already has everything.
HWB: What's your best boudoir-session beauty and lingerie advice?
NS: Get your hair and makeup professionally done. Make sure you tell your makeup artist that it's for a photo session. I recommend you wear false eyelashes because they photograph beautifully.
Do not get a spray tan before your session. It can come out splotchy, slightly orange, or with pale feet and hands. I'd much rather use my retouching skills and time to enhance your natural beauty than to fix a bad spray tan.
Bring anything you want to make your photos special. I always encourage my clients to bring something belonging to their fiancé that he will recognize as his such as a dress shirt or sports jersey. Wedding day undergarments or wedding night lingerie is very popular, and, of course, you can bring your wedding dress along for a few shots of it, unlaced, maybe showing some bare skin down the back.
Practice your expressions in the mirror. For several days before the session, try out that pout when nobody is around. Getting that sexy pout to look sexy is not as easy as it looks. I can always tell who has practiced and who hasn't!
The most important thing is to choose outfits that make you feel sexy. A good rule is to bring at least one thing white, at least one thing black, a pair of booty shorts, a thong, and something in a favorite or bright color or two so you can mix and match. A corset will create sexy curves. In addition to lingerie, don't forget your shoes, jewelry, and your engagement ring. I also supply props like pearls, gloves, silk wraps and shoes.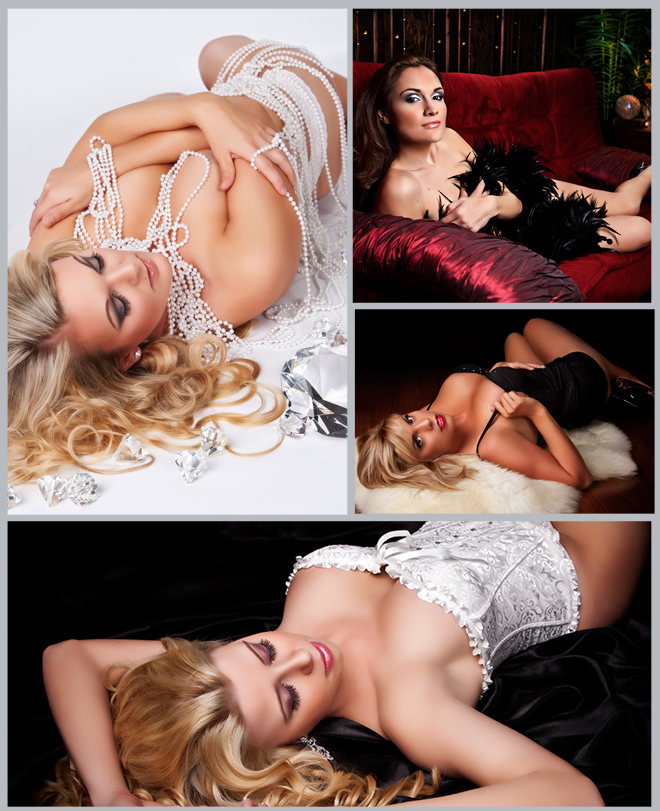 HWB: What about the bride who may not be sure boudoir is the right thing for her? And once she's decided to take the plunge, how do you make a bride feel comfortable during her session?
NS: First off, I encourage anyone who is undecided to give me a call or arrange for a tour.  We can talk about it and you can see where I photograph and check out all my props.  There's no obligation. Sometimes just having all your questions answered and knowing how it works is all it takes to know if this is something you want to do. Even if you decide to wait for now, there's always that first anniversary gift, same time next year.
Most of my clients have never done anything like this before so part of my job in the beginning is to help get rid of the jitters so they can relax and have fun. Before I take any pictures, I talk with the client about her clothing, the style of photos she wants, her best assets and her "problem" areas. I answer her questions, and use it as an opportunity for her to get to know me, and feel comfortable with me, and to trust that my goal is to make her feel beautiful and sexy.
During the photo shoot, I frequently show her images on the back of the camera so she can see that she really is looking good. And I think the biggest thing is not to over-think it. Just have fun and don't take yourself too seriously during the process. Some girls will laugh in the beginning because they feel so silly until they start seeing what the camera is capturing between the giggles. Before long, the girls get over their self-consciousness and get into the "being sexy in front of a camera" state of mind. At the end of the sessions, my clients tell me they can't believe how much FUN they just had!
HWB: When should a bride present her groom with her boudoir album?
NS: Some brides like to be there when he opens his gift, so they opt to give it to him on the night before the wedding, maybe after the rehearsal dinner, when the two of them can steal away for a moment and exchange their gifts. Other brides want give it to him on their wedding day before the ceremony. Either way, I recommend secretly telling the wedding photographer what is planned so he or she can be ready to capture the expressions on the groom's face when he opens it.