The escape from city crowds, the beautiful natural settings, the promise of abundant R&R with beloved family and friends—what's not to love about a destination wedding? While the experience of a destination celebration is all about leisure, narrowing down the choices for your destination-wedding location can be, well…a lot of work. So allow us to assist you, with a peek into some of our favorite settings for the nuptial celebration of a lifetime—one that will let you and your guests enjoy life to the fullest!
NAPA VALLEY VISTAS
St. Helena
Photo: Courtesy of Culinary Institute of America at Greystone
In the center of Northern California's world-renowned Napa Valley sits charming St. Helena—home of legendary hot-air-ballooning, diverse art galleries and vibrant family wineries. Known as "Napa Valley's main street," St. Helena also is home to the Culinary Institute of America's magnificent Greystone campus, where regal 19th-century architecture meets spectacular vineyard views…and where every wedding is an unforgettable celebration of food, wine, family and friends.
Texas-based couples love hosting guests at this iconic venue—and with good reason. Where else but at CIA-Greystone, former site of the historic Christian Brothers winery, can you find a 90-foot-tall atrium, a stunning barrel room, and some of the world's most exciting cuisine and wines, all in one place?
Napa
Venue: CIA-Copia | Photo: Victor M. Samuel
For a Napa Valley food-focused wedding in a more contemporary setting, set your sights on the Culinary Institute of America's newest facility: Copia. Located in the city of Napa itself, CIA-Copia is a food-lover's playground, and a perfect place for lovers to celebrate the bond of marriage with those they love most.
Copia's sophisticated mezzanine deck, overlooking the glass-walled atrium, modern amphitheater and the Napa River in the background, is among the venue's most coveted spaces for sipping fine wine and craft cocktails, and feasting on custom menu items created in collaboration with CIA chefs.
You and your wedding guests also will get to take advantage of Copia's many options for foodie fun. Located adjacent to the lively Oxbow Public Market in downtown Napa, Copia offers culinary classes and demonstrations, tastings, and a fabulous on-site store where you'll find everything from local wild mushrooms to luxurious French cookware.
HEAD FOR THE HILL COUNTRY
Wimberley
Venue: Old Glory Ranch | Photo: Anthology Photography
Historic Texas mill town Wimberley, located 45 miles southwest of Austin, is a haven for weekend antiquers, art-lovers and outdoors-enthusiasts. It's also a picture-perfect location for your riverfront destination celebration.
For a wedding that takes full advantage of the natural beauty of this beloved Hill Country locale—but also allows for an on-site chapel ceremony and elegant ballroom-style reception—be sure to check out Old Glory Ranch, situated on 2,200 acres of Hill Country range along 1.5 miles of dazzling Blanco River frontage.
Whether you choose to say your vows in Old Glory's enchanting Oak Grove, on a patio overlooking the emerald-green Blanco, or inside the venue's climate-controlled Chapel Hall (built from repurposed homes and churches from the turn of the 20th century), you'll know that your event will be given the full attention of Old Glory's experienced staff—some of whom have been with the venue for more than a decade.
And make sure to inquire about the venue's beloved miniature donkeys—which, when saddled with vibrant flower baskets, elicit "ooh's" and "ahh's" from guests young and old, and are a favorite for newlywed photo ops.
Dripping Springs
Venue: The Terrace Club | Photo: George Street Photography
Known as the "Gateway to the Hill Country," picturesque Dripping Springs is located just 25 miles west of downtown Austin, but feels like a million miles away from the big city. A visit to Dripping Springs might find you gobbling down Texas barbecue, plunging into the jade-green waters of famed Hamilton Pool, or two-stepping at a historic Texas dancehall.
A destination-venue-hunting trip to Dripping Springs must take you to The Terrace Club, where you'll find yourself on top of the highest ridge in the region, overlooking acre upon acre of spectacular Hill Country scenery.
Terrace Club couples love to descend the stone walkway, and say their vows in the venue's garden space, beneath a flower-bedecked arbor (and, more often than not, in front of a majestic Hill Country sunset), before making their way with their guests to the 7,000-square-foot ballroom, for dining and dancing. Since everything, from catering to rentals to centerpieces, is included in their wedding package, couples need focus only on the festivities, which means they have way more energy to enjoy a Dripping Springs wedding weekend of lawn games, local lake adventures, and celebratory hijinks at the acclaimed Deep Eddy Vodka distillery, located adjacent to the venue.
Johnson City
Venue: King River Ranch | Photo:Bonnie & Lauren Weddings
In picturesque Blanco County, along the Pedernales River, lies the "Crossroads of the Hill Country": Johnson City. Home to the "Texas White House"—aka the childhood home of President Lyndon Johnson—this charming Hill Country enclave, located just under 50 miles west of Austin, boasts countless nearby wineries, plus local hiking, fishing, horseback riding and hot-air-ballooning.
It also boasts beautiful King River Ranch, a stunning wedding spot set on a private ¼-mile stretch of the Pedernales, where horses, miniature donkeys and St. Croix sheep graze in expansive pastures…and where in-house wedding design services are provided by Willem-Aiden, a former fixture on Hollywood's lavish event-design scene.
In love with the Hill Country, but got your sights set on a big, beautiful wedding, with all the whistles and bells of an in-town bash? King River Ranch's King Barn can accommodate 250 for a seated dinner and dancing, while the venue's spectacular River Terrace, built directly into dramatic rocky riverbank, provides an unparalleled backdrop for relaxed (but ultra-elegant) revelry.
GO WEST, YOUNG TO-BE-WEDS
New Ulm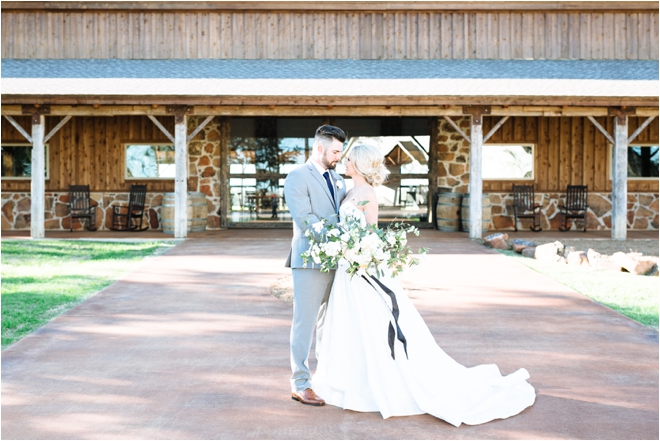 Venue: The Vine | Photo: Smith House Photography
Just west of Houston, set on 23 rolling acres filled with gently swaying trees and sunset views for miles, The Vine started as a rough sketch and a dream…and is now a regal private event venue that makes wedding-couples' dreams come true.
The Vine's capacious Barrel Barn may have "barn" in its name and customized sliding reclaimed barn doors at its entrance—but the nod to a rustic farm structure stops there. This remarkable 500-guest-capacity reception space features floor-to-ceiling flagstone fireplaces, gleaming wood surfaces and state-of-the-art lighting and sound capabilities, plus the ability to slide back those big ol' barn doors and let nature in when the weather allows.
For a destination wedding ceremony with a contemporary chapel feel, The Vine's on-site Union Bell Chapel is true to its name, with a working bell that newlywed couples can ring as they exit the chapel and make their way to the party of a lifetime.
Future weddings at The Vine will get to enjoy the fruits of this venue's labors—literally—as the property's young grapevines will be ready for harvest in the next couple of years, and eventually will be featured at the venue's planned tasting room.
Columbus
Venue: Big Easy Ranch | Photo: Joey T. Photography
Situated 70 miles west of Houston and 80 miles southwest of Austin, Big Easy Ranch has everything a weekend wedding group could want, all on one magnificent 1,300-acre property.
Tour the grounds of this true-Texas-style destination resort, and you're likely to stumble on sparkling lakes, picture-perfect ponds, cascading waterfalls and stands of centuries-old oak—any of which might strike you as a perfect spot for your al-fresco "I do's."
Dining, dancing and revelry typically take place in the 10,000-square-foot Lodge, where celebrants can feast on farm-to-table cuisine prepared by the ranch's award-winning chef (gourmet game, and seafood with a Southern twist, are just a couple of his specialties).
During their leisure hours—one of the greatest appeals of a weekend destination wedding, after all—attendees may want to avail themselves of Big Easy Ranch's Chet William-designed championship golf course, cast a line in one of the property's well-stocked streams or lakes, or take a chance on trophy hunting with one of the ranch's expert guides (Big Easy Ranch happens to be one of the top-producing whitetail ranches in Texas).
However you choose to round out your Big Easy Ranch wedding weekend, you'll enjoy a destination wedding experience, at a destination so close to home, you'll be snuggled down in your newlywed nest almost before you know it.
MEXICO IS FOR LOVERS
Cancun & Tulum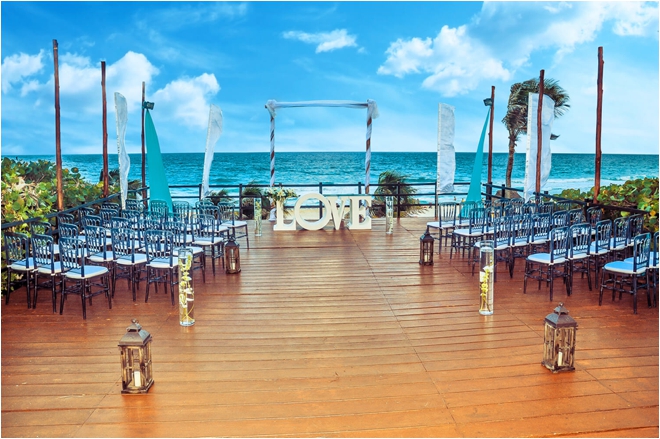 Photo: Courtesy of Oasis Hotels & Resorts
For busy couples who crave an oceanfront destination wedding without the logistical and design responsibilities a destination wedding can entail, Oasis Hotels & Resorts has the ideal wedding package solution, in one of two Yucatan Peninsula destinations: Cancun, offering dazzling beaches, endless shopping and high-energy nightlife; or Tulum, where soaring cliffs and Mayan ruins meet soft sands and cavernous cenotes.
Whichever site you select, Oasis will take care of every detail, from ceremony to reception to accommodations and more, when you choose the "O Weddings" package that fits your destination-wedding dream.
Options include the O Mayan Package, which incorporates local history and culture into your nuptials, with a traditional Mayan altar setup at your beachfront location, and a ceremony performed in the Mayan language (with English or Spanish translation, of course!).
For larger, more lavish celebrations, the O Eternity Package includes exclusive ceremony and reception decor; a private poolside or beachfront dinner with open bar, DJ and custom lighting; and a rehearsal dinner in one of the resort's acclaimed specialty restaurants.
And while your O Weddings package features may be pre-set, the service you'll receive is completely personalized. Oasis Resorts' U.S.-based staff will serve as your concierge throughout the planning process, and put you in touch with your own personal bilingual wedding expert, on site, to make everything simple…and superb.