If vintage luxury cars are your thing, or if you have a large wedding party and are heading for the hills, rev up your wedding transportation with these four stylish and savvy ideas for dramatic entrances, delightful day trips and gorgeous getaways.
A Fine Vintage
Houstonians love their antique automobiles and classic cars. Because of our warm climate and lack of snow, vintage cars in Houston aren't subject to damage from road salt; Houston classic cars are preserved and kept in pristine condition, making them an excellent choice for unique wedding transportation. Rent a '60s-era muscle car, a fun 1950s Ford or a classic Chevy convertible. Vintage Rolls Royce rentals for weddings are popular for urbanites, while Hill Country weddings are the perfect setting for wedding transportation via a flower-bedecked vintage pickup truck. Some venues, like 15 Acres, have vintage cars on site to add to your wedding package.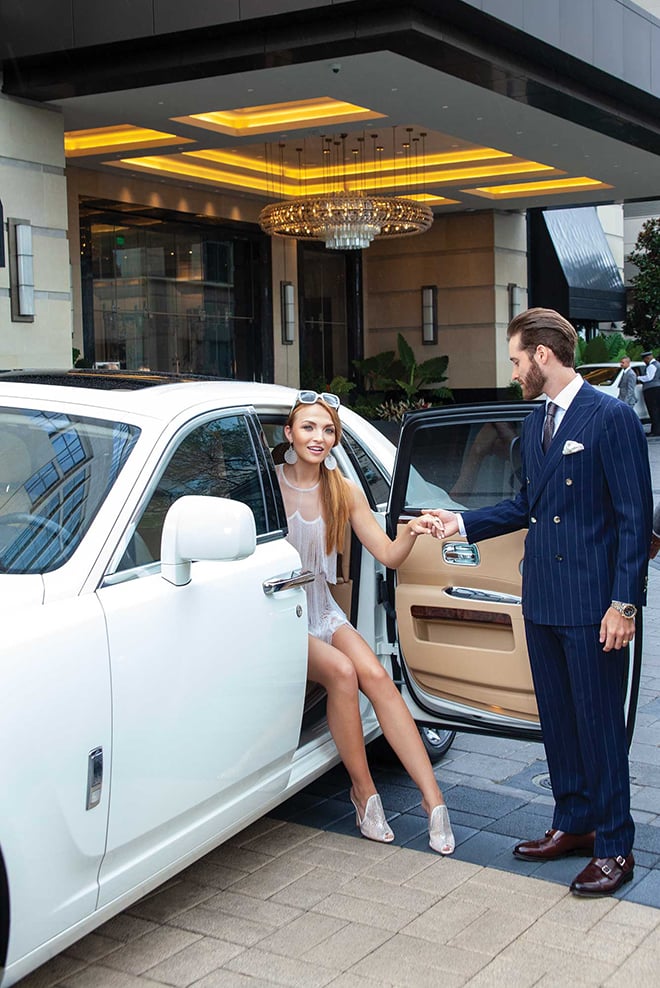 Luxury Model
Ever fantasized about getting behind the wheel of a prized late-model luxury sports car, coupe or sedan? Now's the time, to-be-wed. Rent a luxury car for your wedding for a show-stopping arrival. A sexy Lamborghini roadster, a gleaming white Bentley Mulsanne or a sexy Maserati Quattroporte makes getting to your wedding as much fun as being at your wedding! Glide along in glamour without the responsibility and fuss of driving: hire a chauffeur-driven luxury SUV or two to go to and from ceremony, reception and after-party festivities in posh comfort.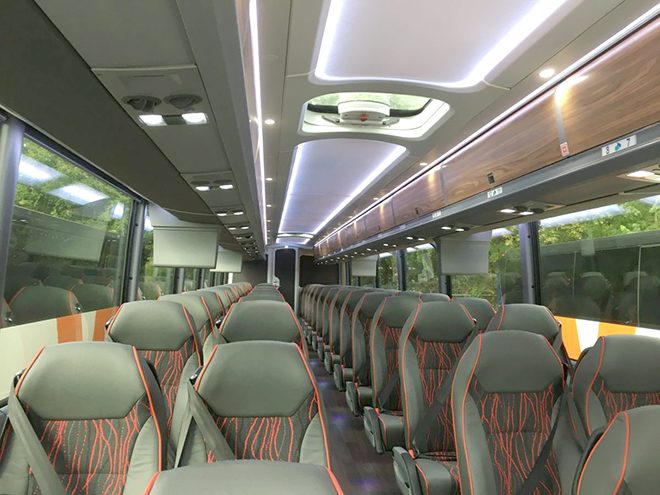 Couture Coaches
For all-out comfort, fun and convenience, consider hiring a motorcoach or renting shuttle buses for your wedding guests. Revelers can relax, celebrate and get home safely – without worry. Shuttle buses generally hold 25 to 44 passengers and are perfect for wedding-day transportation, trips to the airport or pre-wedding parties, or touring the city (or perhaps wine tasting or a casino tour?) with your out-of-town guests.
A full-size motorcoach or charter bus – such as  these from Western Motorcoach – will hold up to 56 passengers, and likely will include individual climate controls, on-board charging docks, wifi and even restroom facilities! Hiring a Houston motorcoach or charter bus is an excellent option for Hill Country or Texas destination weddings, and wedding-weekend group outings.
Flights of Fancy
For the ultimate in luxury wedding transportation, private planes for large groups of out-of-town guests or arrivals by helicopters are also an option (the glamorous Post Oak Hotel boasts a helipad with charter options). Water view weddings are made that much more romantic with arrivals and departures by boat. Some venues – like lakeside beauty Waters Edge – can even arrange the getaway craft for for an aquatic departure with inimitable style.