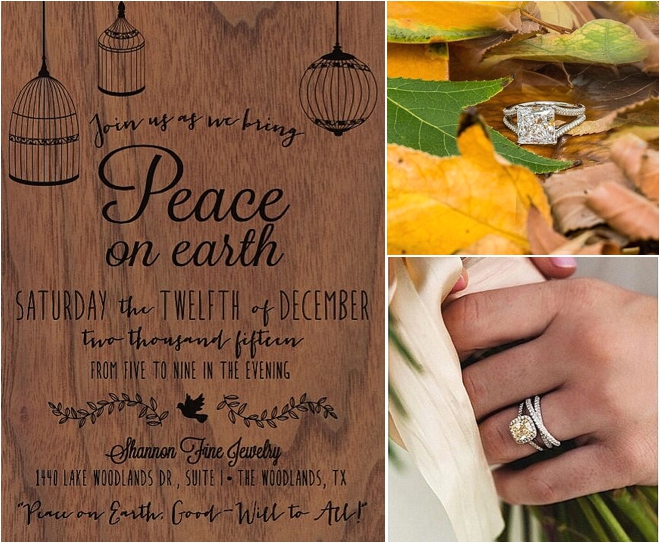 Photos: Simon G.
The Christmas season means different things to different people, but for many of us, the holidays evoke thoughts of warm fireplaces, spiced eggnog and colorfully wrapped gifts placed beneath the tree. All of the season's built-in festivities and feel-good vibes also make December the ideal time to get engaged. Whether one or both of you will be involved in the ring choosing, Shannon Fine Jewelry will make engagement ring shopping WAY easier—and a lot more fun—than you may think. In fact, all you need is a few short hours with one of their caring consultants to find and size your perfect ring before it's all yours to take home. Prefer to surprise your sweetheart with a completely original, custom-designed ring? They can do that, too!
And it just so happens, Shannon Fine Jewelry has a few GREAT deals going on right NOW. Anyone who purchases an engagement ring between December 1 and Christmas Day will receive a whopping 30% off a future wedding band purchase for both to-be-weds (Yes. Really.). PLUS, one engagement-ring-purchaser will be eligible to win the full price of that engagement ring  (up to $5,000 store credit)!
For all of you WIH readers, Shannon Fine Jewelry is sweetening the deal even more: receive an additional 10% off all engagement ring and wedding band purchases THIS WEEK through their annual Christmas party on December 12. Do yourself a favor, and head over to Shannon's luxurious Lake Woodlands location this Saturday with your one and only for a fabulous date night. Browse their exquisite diamonds, colored stones and intricate designs together--all while sipping bubbly and sampling delish bites. Simple, no?
As for your epic proposal, well, that part's up to you. But if the thought makes you nervous, just let your sparkly new engagement ring do the talking. 😉