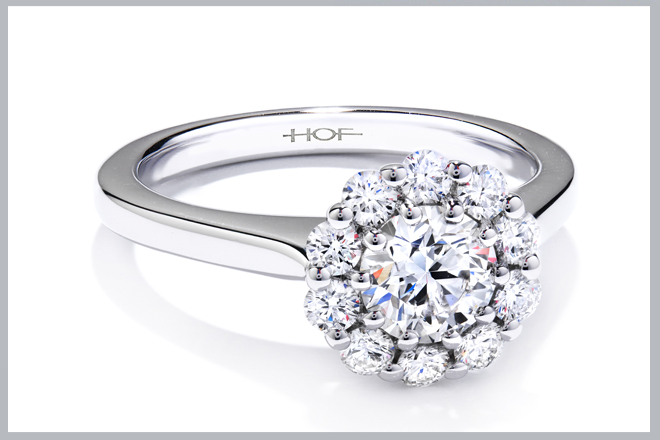 Photo: Beloved Diamond Engagement Ring ~ Courtesy of Hearts on Fire
Sure, some guys still do the whole ring thing solo, unbeknownst to their one-and-only. But in these modern times, most women have at least some involvement in the selection of the ring that likely will become the most important piece of jewelry they'll ever wear. If you want to participate, at least in part, in choosing that perfect piece of precious metal and stone, then this guest post from Hearts on Fire director of design Ilaria Lanzoni is one you do not want to miss.
You've met the man of your dreams, you know he's the one, and now you're talking marriage—which will inevitably lead to discussions about engagement rings. You know you want a ring that you're going to love forever, but how do you know which ring will fulfill that requirement?
The abundance of options available can be overwhelming. You have to consider the setting and style of the ring (do you want solitaire, multi-stone, halo, pavé, or split shank?) and also the cut of the center diamond (do you want round, square, oval, or one of the many other options?).
Think about your personal style. Do you prefer more classic designs, and clean, timeless looks? Or are you a trend-watcher who might wish for a ring with a more modern vibe?
Next, you need to consider the size and shape of the ring. Do you want something flashy and bold that really stands out, or would a simple, low-profile ring be better for you?
Once you've settled on some of these preliminaries, it's time to grab a girlfriend, sister or even your groom-to-be and try a few styles on. Because, honestly, what's more fun than engagement-ring shopping?
While you're enjoying all your ring shopping, keep a few things in mind. If you and your soon-to-be fiancé have discussed a budget, be sure to respect that. This will prevent the tragedy of falling in love with a ring that puts you both in a tough situation.
If you haven't discussed a budget yet, stay focused on finding the style of engagement ring you like the best, rather than attempting to choose one specific ring. This is where having a trusted friend or family member with you while shopping comes in handy, as men will often ask someone in their girlfriend's inner circle for help selecting the perfect engagement ring. If he does, it helps to be sure that the person your man asks knows what you like.
If you're really unsure, you can always work directly with someone in a jewelry store, who can show you ring options and help you determine which style you like the best. This can actually be done in person or online. For example, at Hearts on Fire you can "drop a hint" once you've found the ring you love, and your man will receive an email about the ring you've chosen.
On the same site, you can also work with a diamond Perfection Stylist to learn more about the options available and to get personal help choosing the perfect ring for you.
If you're working with a jeweler, be sure to either have that person keep notes on your preferences, or take notes yourself.In the end, of course, the perfect ring is any ring you receive from the man you love!
Photo: Transcend Single Halo Dream Diamond Engagement Ring ~ Courtesy of Hearts on Fire