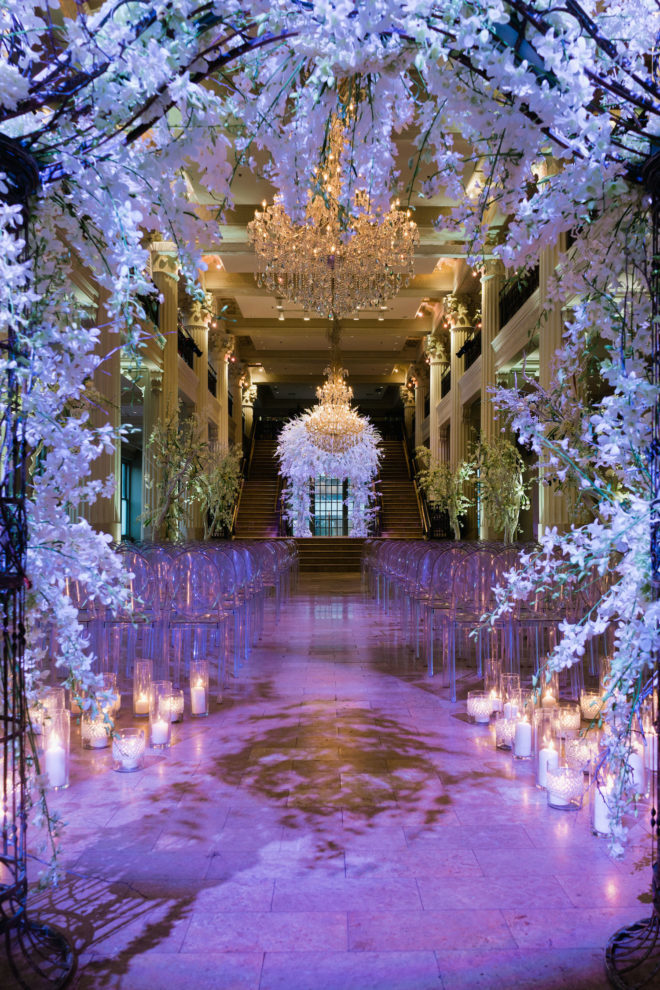 One of the most fun parts of planning your big day is finding unique and fun ways to express your love through your wedding décor, color palette, and theme. That's why it's so important to choose the right Houston wedding florist and designer to bring your vision to life! Whether your wedding will be intimate or extravagant, Plants N' Petals has over 30 years of experience turning wedding décor dreams into realities.
Plants N' Petals provides so much more than just incredible wedding florals. They provide everything needed to make your ceremony and reception picture perfect. Imagine a floral-adorned arch and lush florals lining the aisle, matching your bridal bouquet. Or, envision the reception tablescape of your dreams—think blooming wedding florals, vases, and candelabras atop luxury linens. Plants N' Petals will provide it all, including coordinating tables and chairs!
From the wedding floral basics to carefully crafted arrangements, lighting, drapery, and more, the design team at Plants N' Petals has a keen eye for wedding décor. We had the opportunity to chat with Bahara Jamea, the Senior Wedding and Event Designer with Plants N' Petals. She gave us the inside scoop on how she helps create some of Houston's most coveted wedding designs.
Meet Bahara Jamea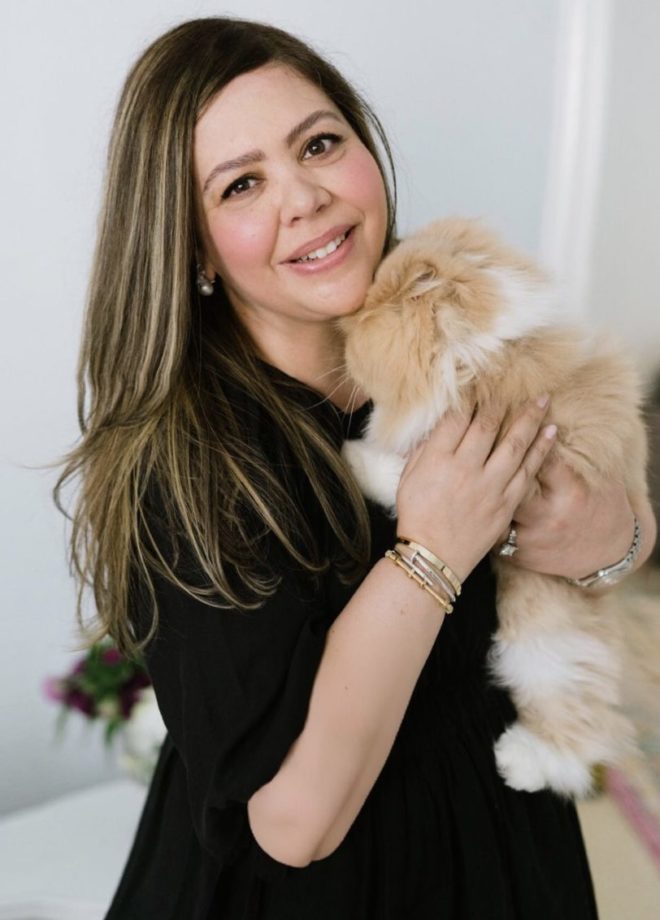 Weddings in Houston: How long have you been working in the wedding industry?
Bahara: "I've been working in the industry since 2007. And I've been designing with Plants N' Petals for almost 11 years."
WiH: What is your favorite part about designing weddings?
B: "I love the ability to think out-of-the-box when clients give me the creative freedom to create an event I think they'll love. These are my passion projects. I really take the time to understand what a couple does and doesn't like. You learn just as much from a couple from what they don't like, so I always make sure to ask."
Tips for Planning Your Décor
Wih: Where do you recommend couples begin to help you create their dream wedding décor?
B: "Come up with a budget and a wish list first, and make sure your designer knows them! This really helps us create the best décor for you. If you have a more open budget, your wish list will be very helpful to explain your vision. If you have a specific wedding budget, your designer will be able to help you maximize it and see how things can fit within it. Whether your budget is $4,000 or $40,000, you name it, and we have it!"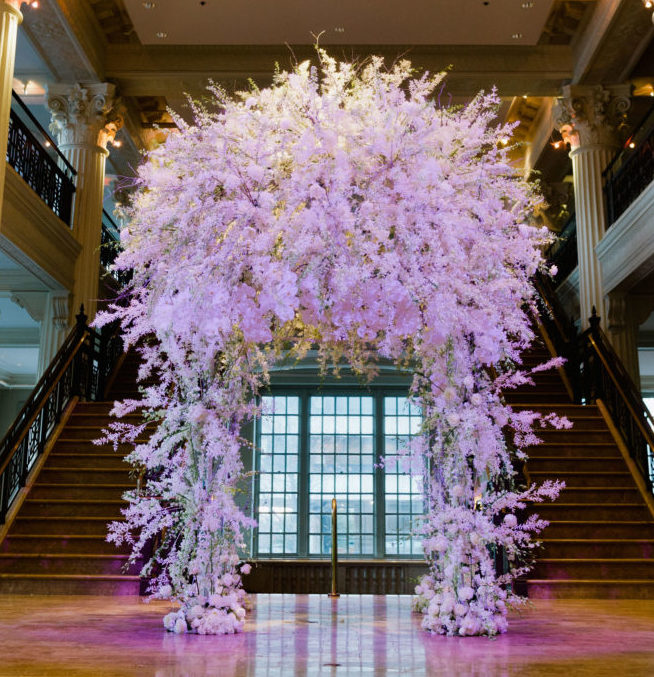 2021 Wedding Trends
WiH: What's your take on 2021 wedding trends?
B: "We tend to work on more updated-classic weddings. We've found that most of our clients prefer timeless weddings with a modern flair. We actually just got back from the market and have tons of new furniture, luxury linens, chargers, and much more coming in. The great thing about these new pieces is they're on-trend but not trendy. The pieces we're curating are of the moment but have lasting power."
"We should have these pieces in time for some of our big fall weddings—most of our events are scheduled for September and October because COVID has made things pretty slow-going. Another trend we've seen is the desire to create more of an experience with the décor." Think three-dimensional immersive installations, like Gucci's more recent ads. Like being submerged in the flowers or an art installation, rather than standing in front of a backdrop. We're also noticing a shift to more art installations over dance floors, where we've typically been pretty floral-heavy."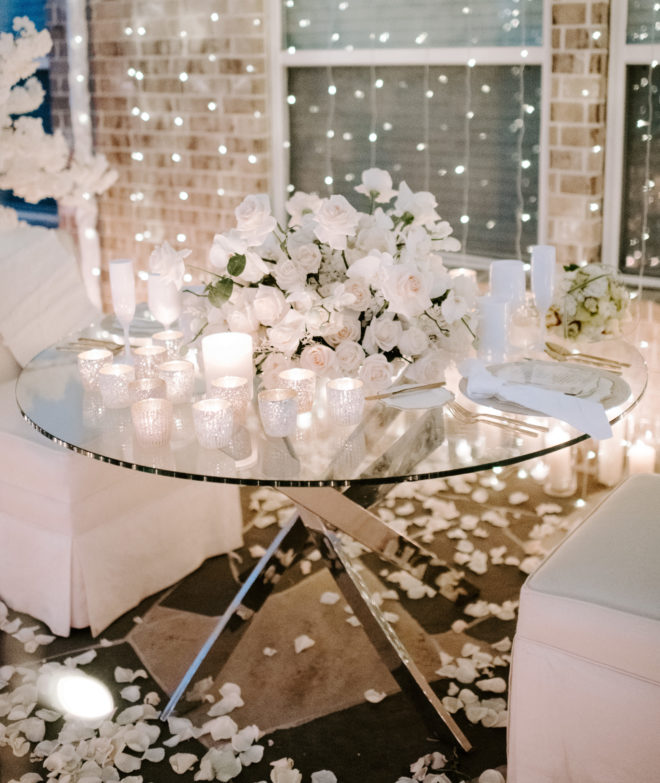 A special thank you to Bahara and the team at Plants N' Petals, and we can't wait to share more from their fabulous fall weddings with you later this year! To learn more about Plants N' Petals and how they bring your wedding vision to life, request a quote or consultation on the Plants N' Petals Weddings in Houston vendor page!
"Bring Your Wedding Décor Dreams to Life With Plants N' Petals" Spotlight Houston Vendor 

– 

Florals, Décor + Rentals: Plants N' Petals

Contributing Vendors: Photography: Raetay Photography / Joe Cogliandro Photography