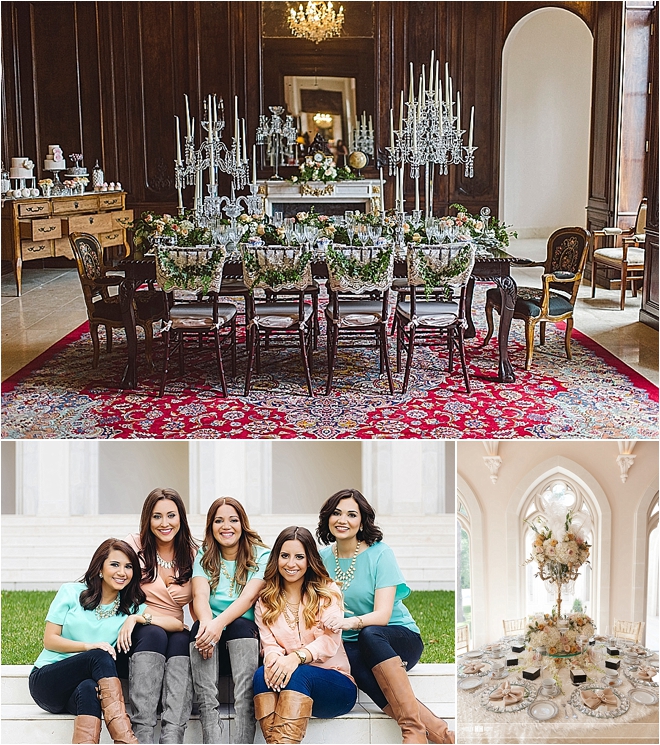 Top Photo: J. Cogliandro Photography; Bottom Left: Jonathan Ivy; Bottom Right: Holly Hoyt Photography
It's your BIG day. Which means BIG plans. Which should NOT mean BIG stress. Fortunately, the lovely Cocomar Ladies are here to ensure that designing and planning your wedding are as much fun as having your wedding. This talented team of women know the top vendors in the industry and will take care of all of your wedding needs and desires–from venue to florist to entertainment, and everything in between–while closely working with YOU and your spouse-to-be to make sure the wedding you're both envisioning becomes a seamless, sensational reality…not to mention exquisite, memorable and completely personal–all within your budget!
By the time your wedding planning process is in full swing, The Cocomar Ladies will not only be your go-to gals for all things wedding, but they'll also be some of your closest confidantes during this deeply special time in your life. Take it from WIH bride Jessica, whose experience with the Cocomar Ladies was nothing short of wonderful: "Each woman I met truly made me feel like I was the only bride in the world. They each showed me genuine kindness, compassion and thoughtfulness. I grew to not only respect each of them, but to sincerely feel a friendship grow throughout our journey. These girls truly made my wedding planning more enjoyable than I could have ever imagined."
Planning your 2016 or 2017 nuptial celebration? Book a planning package with the Cocomar Ladies before the end of January, and you'll receive a 10% discount! Don't let the wedding timelines and to-do lists weigh you down, make it FUN instead. Call NOW for more information.