One of the questions we get asked a lot here at HWB is: "Don't you get tired of weddings?" And the answer is, well…no. We really, truly don't. And the main reason is because every wedding is different. Every. Single. One. Color palettes may come and go, centerpiece heights may soar one season…and then come back down to earth by the next, but, we guarantee you, each wedding, no matter what trends they may share, is unique, special, unlike any other wedding in the universe. Because each couple is unlike any other couple in the universe—their love story is their own, and nobody else's, and as such, their wedding is a magical celebration unto itself, singular and perfect.
Same goes for wedding venues: No two are alike. But…every once in a while, we come upon a venue that is so distinctive, we just have to single it out for some special love. The Bryan Museum in Galveston—housing one of the world's largest collections of historical artifacts, documents and artwork relating to Texas and the American West—is one of these venues. And The Bryan Museum's Conservatory is what makes it so totally one-of-a-kind for weddings.
Photo: C. Baron Photography | Flowers & Decor: Darryl & Co.
Constructed of intricate metalwork and dazzling emerald-green glass, the Conservatory isn't for huge bashes—it maxes out at about 150 reception guests—but the wedding celebrations it does house are stunners.
Photo: Courtesy of The Bryan Museum
For larger wedding events, the 2,000-square foot Bryan Museum Conservatory opens onto a large stone patio that can be set up with additional guest seating.
Photo: Ryan R. Jones Photography
During the day, the Conservatory looks out onto a velvet-green lawn, while keeping guests comfortably cool, in its climate-controlled interior.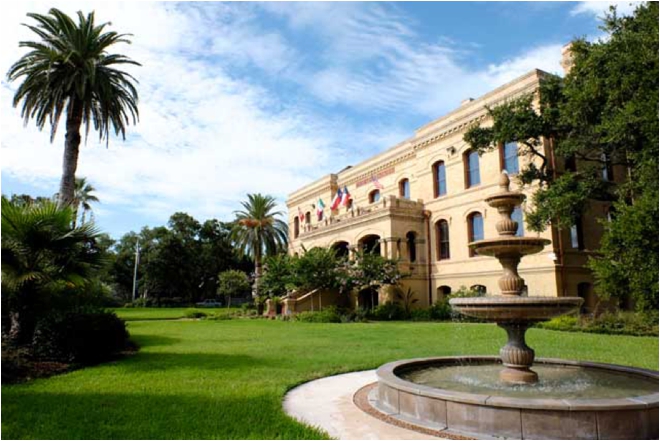 Photo: Courtesy of The Bryan Museum
At night, the jewel-like glass walls of this gem of a venue glow with candlelight, making for an ultra-romantic wedding reception atmosphere.
Photo: Ryan R. Jones Photography
And while most couples tend to have their ceremony in one of the area's houses of worship, before segueing to the Bryan Museum for their celebration, you can say your "I do's" on site, al fresco, beneath the museum's jasmine-covered gazebo.
Photos: Courtesy of The Bryan Museum
Planning a Galveston getaway this summer? Call 409.220.3022 to schedule a visit to The Bryan Museum, and check out the beautiful Conservatory—plus the lavish bridal suite and awesome groom's lounge—in person, as you plan your unlike-any-other-wedding wedding. It'll knock your socks off. But heck, it's summer in Houston. Who needs socks anyway??
Photo: Courtesy of The Bryan Museum
Happy venue-hunting, loves.