"They are inventive, edgy…but can also bring in that elegant softness, for a princess."
Photo: Dream Photo & Video | Venue: The Corinthian | Gowns: Ivory Bridal Atelier | Floral Wreath: Haute Flowers & Events
Yeah, Janice (the recent bride who wrote these words in praise of Haute Flowers & Events)—we know exactly what you mean. We've been lucky enough to be partnered up with this talented League City-based event design studio for a few years now, and we can confirm that this balance of innovation and good ol' fashioned pretty is what owner Teresa Vencil is all about.
And here's the part where we put our money where our mouths are. OK, actually we're gonna put our photos where our typing is. Or something like that. Just bear with us, darlings, it's Friday, we're hard at work on a brand-new magazine for y'all, and we're a little loopy. But most of all, we're a whole lot in love with these inventive, elegant, innovative, pretty, totally individual Haute Flowers & Events creations:
The Floral Lanterns: These great lanterns, accented with flowering branches and bright, boisterous blooms, hung over the head table at Sadie & Aneel's wedding reception. We love the mix of the angular lanterns with delicate, spherical votive holders.
Photo: Studio Uma | Flowers: Haute Flowers & Events
The Coordinating Flower Crown & Bouquet: You don't need to be an ultra-boho bride to rock a flower crown—not if the Haute Flowers crew has anything to say about it. They designed this lovely set with refinement in mind, echoing the bouquet's pale greenery and shades of coral, pink and yellow, in a sweet crown, completed with a sheer, flowing veil. Bonus points for groom's cool boutonniere!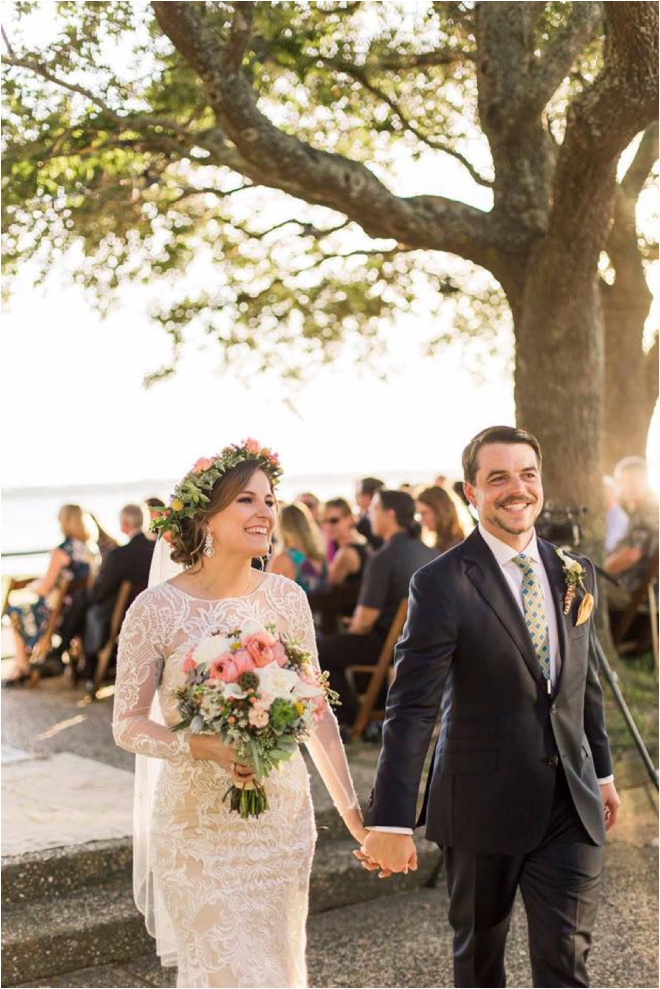 Photo: Binford Creative | Bouquet & Flower Crown: Haute Flowers & Events
The Succulent Jewelry: Vencil and her designers created these vintage-inspired pieces exclusively for us, for this recent styled shoot, so we're, oh, just a little bit partial to them. Plus, they're gorge. Plus, wearing plants on your body is so freakin' chic.
Photo: Lindsay Elizabeth Photography | Styling, Design & Flowers: Haute Flowers & Events
The Branch Canopy: Also created just for our shoot, this canopy is a little rustic, a little untamed, a little outside-the-box…and completely charming. It's the perfect complement to a colorful, organic-feeling table design that looks completely at home inside the brick walls of Butler's Courtyard, where this fantasy weddingscape was shot.
Photo: Lindsay Elizabeth Photography | Styling, Design & Flowers: Haute Flowers & Events | Venue: Butler's Courtyard | Linens, Chargers & Pillows: EB. Inc Event Rentals & Design | Vases & Rentals: Darryl & Co.
The Floral Dress: It's a dress. Made out of flowers. And it's…uh-mazing. 'Nuff said.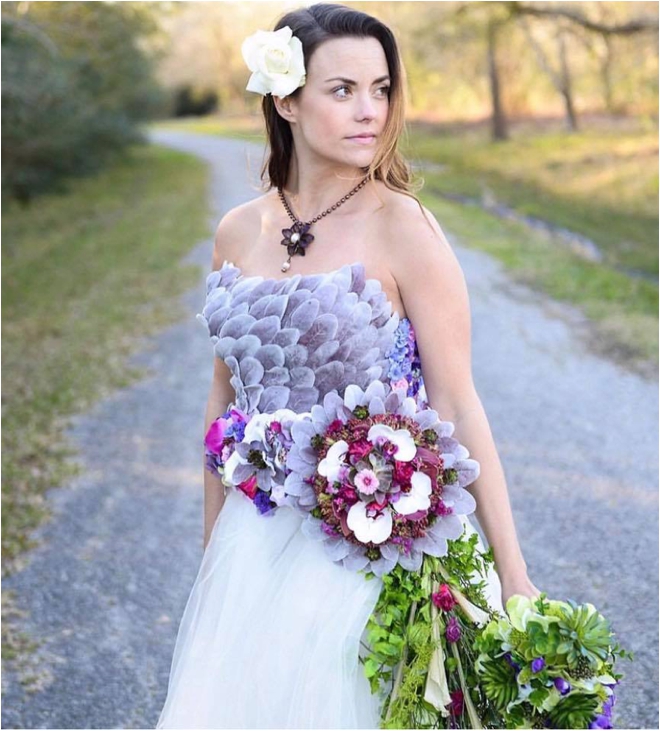 Photo: LA Photography | Flowers: Haute Flowers & Events
Intrigued? Inspired? Snag yourself an appointment with Haute Flowers & Events, and turn that inspiration into real, live wedding design. And don't forget to tell 'em "Hey girl" from their friends at Weddings in Houston!