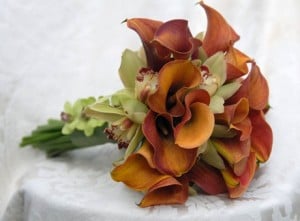 Photo courtesy Blooming Gallery
Doesn't matter what the calendar says—summer is officially here. With today's temperature looking to top 90 degrees, and the rest of the week, month and entire season likely to bring more of the same, it's time to think about wedding flowers that can endure Houston's notorious heat without a petal out of place.
If you're planning a Houston wedding in the next few months, you'll want to make sure you choose heat- and humidity-resistant blooms, particularly if any part of your wedding is scheduled to take place outdoors.
Among the heartiest, and loveliest, hot-weather floral picks, the intricate orchid is an enduring favorite. Despite their delicate, exotic appearance, orchids are extraordinarily well suited to maintaining their dewy appearance in even the steamiest weather conditions. Whether you choose clusters of six-petal dendrobiums or showy, dewy cymbidiums, you can't go wrong with these sturdy plants in your bouquet or centerpieces. And for grooms and groomsmen, a single cymbidium makes a dashing boutonniere!
Photo by D. Jones Photography, courtesy Events in Bloom
The elegant, attenuated calla lily is another great summer wedding bloom. Choose mini callas in intense, vibrant shades—choices typically include gold, hot pink, scarlet and purplish-black—and have your floral provider create a simple, unadorned, hand-tied nosegay, or an ornate, jewel-accented bouquet.
Photo courtesy alovelymorning.blogspot.com
For centerpieces, you might try forgoing cut floral altogether. Succulent arrangements can be a stunning modern alternative to traditional tabletop floral. Succulents come in almost as many shapes and colors as cut flowers, but unlike conventional wedding flowers, they retain moisture in their leaves and stems, and can stand up to intense summer heat. Your floral vendor can create arrangements using floral foam and/or colored stones, bits of glass or other textured pieces for anchoring and additional color. Or use potted succulents that can double as guest favors when your celebration comes to a close.