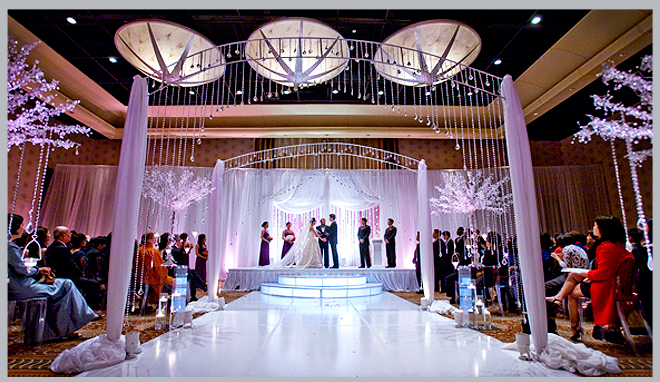 Photos: Nhan Nguyen Photography ~ Venue: InterContinental Houston Hotel
If you attended January's I Do! Bridal Soiree, you got a chance to witness, first-hand, the majesty of the InterContinental Houston Hotel's Legends Ballroom. As the site of our spectacular 2012 runway show, the Legends Ballroom dazzled with its 18-foot ceilings and elaborate chandeliers. With all eyes focused on the runway, many of you may have missed the venue's many other fabulous features—so let's just lay them out for you, shall we? First off, there are the ballroom's regal cherry-mahogany walls, which imbue a sense of grandeur befitting even the most elegantly formal wedding occasion. Then, just beyond the ballroom's doors, in the glass-walled foyer (a favorite pre-function space), there is that incredible spiral staircase—perfect for your grand entrance as a newly minted Mrs. Add to that a gracious and ultra-efficient staff, and some of the finest culinary talent in the country, and the fact that the Legends Ballroom can accommodate a wedding reception for up to 800 of your nearest and dearest—while a couple of smaller, but no less luxurious, ballrooms can host more intimate groups—and, well, InterContinental Houston catering manager and wedding expert Chantal Lavin says it best: "The location, ballrooms, culinary team and staff make the InterContinental Hotel Houston the choice for sophisticated and savvy brides."
Want to learn more about available dates, or schedule a visit? E-mail Chantal, or click here.
Oh—and here's something else the InterContinental Houston has besides beautiful ballrooms: spacious, stylish guest rooms with insanely comfortable beds and city views for miles. The kind of room you'll luxuriate in with the love o' your life when you score one of our TWO two-night, weekend getaways, which include a Friday & Saturday night stay, plus a lazy, lavish breakfast in the The Restaurant—the InterContinental's global-cuisine dining destination.
To Enter: E-mail us with your name, fiancé's name, wedding date and reception venue. Please do NOT enter more than once—duplicate entries will be deleted. Entry must be emailed BY FRIDAY, FEBRUARY 9, 2012. Two randomly selected winners will be notified, and announced on Facebook the following week. Good luck!