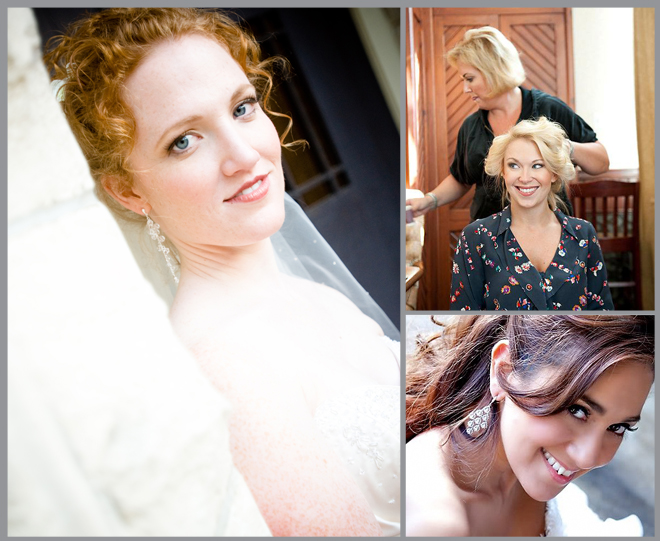 We're pretty sure you've had your fill of Friday's royal wedding, so we won't add too much to the mix. Here's our take. The ceremony? Sweet and touching, just as any wedding should be—this, despite the precise choreography and the zillions of dignitaries in attendance. The dress? We seriously adored it and thought it was perfectly fitting for both the setting and the woman wearing it (although we have an eensy bit of sympathy for those who thought the gown, by Sarah Burton for Alexander McQueen, a bit austere).
But you know what we really loved? How pretty and natural and unfussy bride Kate Middleton managed to look, there amidst the soaring columns and royal crests and acres of gilded and velvet-covered everything.
Which, naturally, made us think of Heather Hughes, whose Hues by Heather is responsible for many a Houston bride's picture-perfect, yet utterly natural-looking, wedding-day makeup. We asked Heather—who, BTW, does tons of TV, film and print, along with bridal—and she told us her brides want to look "fresh—not like they spent all day getting ready." Along with subtly smoky eyes and a hint of sparkle, she's giving brides loose, sexy updo's accented with headbands, feathers and flowers. "It's not about us coming in and 'painting their face.' We do want their fiancé to recognize them when they walk down the aisle," Hughes says. And she wants brides to recognize their own loveliness when they reflect on their big day: "We want them to look back at their pictures 10 years from now and say, 'Wow!  I was beautiful.' Not…'Oh yeah, I got married in '87!'"
Plus, besides being insanely talented professionals, Hues by Heather artists are so sweet and nurturing, they make brides feel comfortable, calm and happy while getting their bridal hair and makeup done–and that, more than anything, is the key to looking beautifully, naturally, on your wedding day!
Photos: (clockwise from left) Robert Fuel; Adam Nyholt; Pink Posh