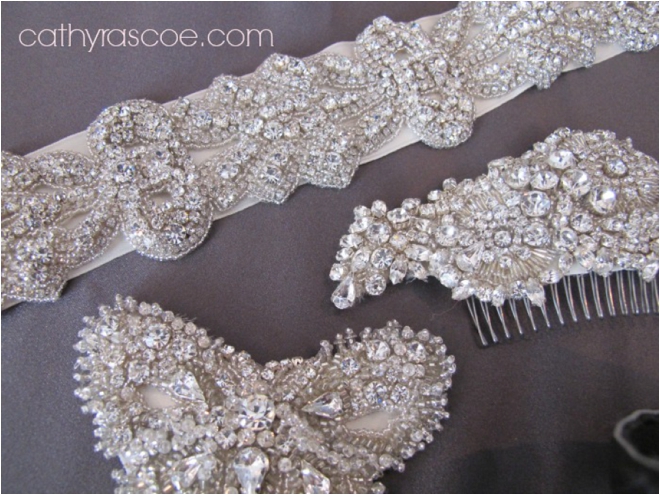 Photo: Cathy Rascoe
We are so excited about our upcoming spring cocktail party and wedding showcase that we've teamed up with top Houston milliner Cathy Rascoe for a very exciting giveaway: One lucky bride-to-be who reserves her I Do! Bridal Soiree at The Corinthian tickets by 9pm this Friday, April 11, will work directly with Cathy Rascoe to create a custom bridal headpiece worth $500. Wondering about the artist behind this uniquely awesome giveaway? Our exclusive Q&A sesh with the designer herself should shed some light on her lovely work!
Houston Wedding Blog: How did you get your start in millinery?
Cathy Rascoe: I have always had a fascination with ladies' hats, stretching back to childhood. I started in millinery when I was getting married and I could not find any bridal headpiece that I thought was well made and fit my design aesthetics. I created my own piece for my wedding—which, frankly, I would never even show to anyone today. It was not a great design, but it was what I could do at the time, so it was better than what was available or that I could find, at least.
HWB: What do you love about bridal millinery?
CR: When I'm creating pieces I completely lose myself in my work. I lose track of time, space, and all sense that there is anything else in the world except the piece that I'm composing. It is thrilling to be lost so completely in the design phase. I become so emotionally involved that I often end up in tears when I am finished.
HWB: What's involved in creating a bridal headpiece or veil?
CR: The most important characteristic, I find, is the beauty. Each piece wants and needs to be beautiful. I don't strive to create avant-garde or unusual pieces. My pieces are timeless and classic. Each piece requires many hours of design, engineering, sewing, finishing and composition. Each piece has its own soul, in a way that beams out to the world and shouts, "Look at me! I'm gorgeous!" Guests should literally gasp when they see my brides—and it happens a lot with my pieces. It is very gratifying and satisfying to be able to connect with people in such a visceral and emotional manner.
HWB: What does a custom headpiece add to the bride's ensemble?
CR: To me, a bare head is incomplete. Have you seen pictures of brides with just a veil or a pretty hairstyle and thought, "Meh?" The most iconic brides throughout time have had an unforgettable headpiece. I feel a duty to help women to realize that they can be insanely gorgeous with even just a little something on their head that represents their personality.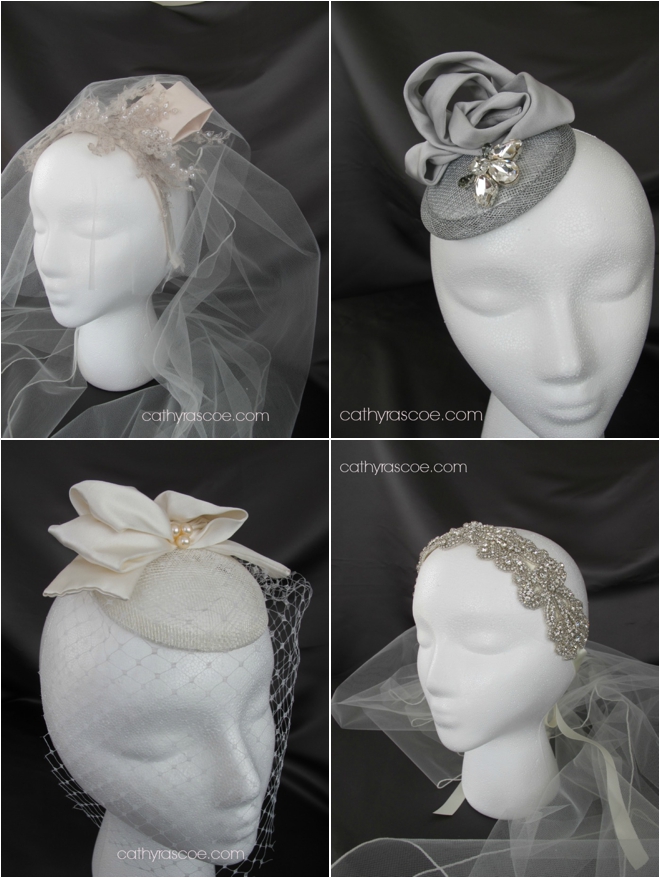 Photos: Cathy Rascoe
Meet Cathy Rascoe in person at the extraordinary I Do! Bridal Soiree at The Corinthian, Thursday, April 17, from 6-9 pm. Purchase your all-inclusive $25 presale tickets NOW, before they sell out! We'll see YOU at I Do!