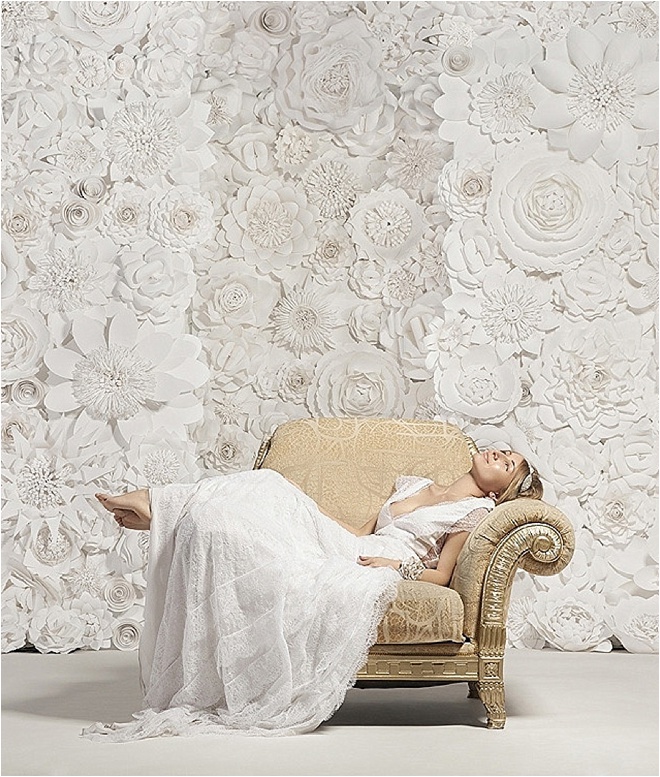 Photo: BeHUMAN Productions
Peanut butter & jelly. Champagne & dessert. Weddings &…FLOWERS! There are some things that just go together. Beautiful blooms and the celebration of marriage are two of these. But fresh cut flowers are not the only option for romantic wedding decor. Just ask famed Houston-based paper-flower artist Balushka, whose floral flights of fancy have won the hearts of wedding couples across the country—not to mention editors, retailers and stylists, who love Balushka's paper flower backdrops, installations and jewelry for their exuberance and whimsical femininity. We spoke to the artist about her inspiration and technique, and found out what she's got in bloom for upcoming Houston weddings. Read on!
Houston Wedding Blog: How did you get the idea to start creating flowers out of paper?
Balushka: I was in fashion school, and my professor asked me to create paper flowers for a photo shoot for a magazine. I had no idea how to make paper flowers, but she said, "Balushka, you seem like you can make anything!" So I took this as inspiration, and created my first four flowers overnight. They loved them so much that they ordered 50 giant paper flowers from me. And that is how Balushka Paper Floral Artistry was born!
HWB: What are the biggest milestones in your floral-artistry career?
Balushka: I decorated all seven windows at the legendary Lord & Taylor store on the 5th Ave in NYC. Usually, they keep the window displays up for only one month…but my installation of over 2,500 flowers was there for three months! Afterwards, they ended up purchasing the flowers and sent them out to Lord & Taylor stores all over country for their window displays.
I've also decorated multiple bridal markets in Chicago and New York, and this past fall my biggest dream came true, when I had a chance to decorate New York Fashion Week!
HWB: Take us through the creation of a custom paper-flower display. Where do you start? What materials do you use? How long does it take?
Balushka: The client may show me the space and color scheme of the venue or event. If the client is located in Houston, they can come visit my new studio, see the flowers in person and have a personal consultation with me.
I get an understanding from the client of the feel they wish for: for example, more soft edges or a spiky design? We choose from over 30 styles of flowers from the Balushka collection and then we go into the choice of colors. The client may choose from 67 colors of paper, including custom hand-painted papers. Depending on the size/material and design, each flower may take from an hour to seven hours to create.
HWB: What are your most popular rental installations for wedding ceremonies and receptions?
Balushka: The most popular are my Balushka walls, which are 8-by-8 feet, and are completely filled with over 300 flowers. They come in ivory or white, and the couple may add any color they can imagine! I also recently designed a fresh cherry tree wall with a paper floral accent on it, which has been popular as well.
My "naked" backdrops had their debut in 2016. These 8-by-8-foot walls, with 25 flowers on them, can be rented for $750 including installation fee, and make a beautiful backdrop for a photo booth or cake table.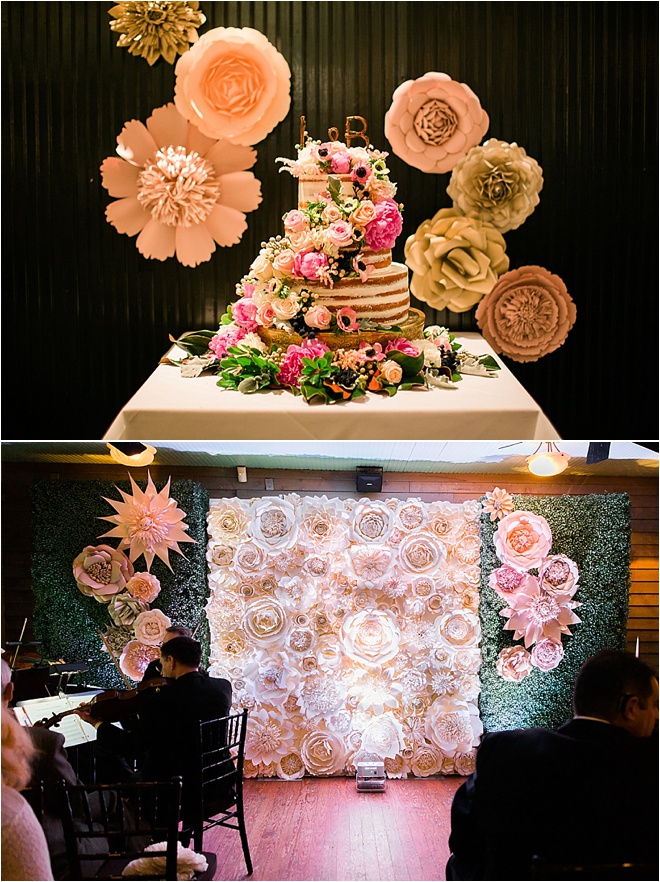 Photos: Kim Schaffer
HWB: What are some of the exciting wedding creations you're working on right now?
Balushka: I am decorating a Houston wedding that will feature an 8-by-8-foot wall of white flowers, along with my 12-foot paper floral arch, and two freehand installations of paper flowers for the cake and photo area. I also have a wedding coming up in Austin that will feature an arbor installation of pink flowers, and a lime-green and white wall for a Galveston wedding in May.
In general, I'm seeing pink, green and black as popular colors for 2016!
HWB: What do you LOVE most about working on weddings, and working with wedding couples?
Balushka: I love to see the enthusiasm in couples when they are creating that one very special day for themselves and the people they care for the most. I am so grateful to be able to offer my pieces of art for wedding celebrations, since the art is symbolic and timeless—like true love.

Photos: Dara Dyer Photography
You can email Balushka or call 832.596.5953 for more information, or to schedule your consultation!