There will never be another Deborah and Joe. And there will never be another first wedding at the soon-to-open Westin Memorial City. Naturally the folks at the fabulous new Westin wanted to commemorate this sweet Houston couple's very special status…by having them graffiti the walls and floor. Huh??
OK, so it wasn't exactly spray tagging. But the couple was given a nice little marker and the chance to write their names and wedding date on the ballroom wall and the floor of the guest room where they'll be spending their wedding night this coming May. "That way they will be a part of the hotel forever!" says Westin publicist Brittany Zucker. Check out Deborah's bridal hard hat—so cute!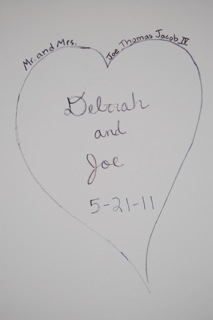 You won't be able to take a pen to the walls at the Westin Memorial City (at least, not legally), but you CAN book this absolutely beautiful hotel for your wedding. We've got lots more details on the new Westin's wow-worthy architectural features, design elements and ballroom space in this issue of the Wedding Buzz. Or visit the hotel virtually at Weddings in Houston.