He's back! That's right, Lord Wedgwood, direct descendant of Wedgwood founder Josiah Wedgwood and arbiter of gracious entertaining, returns to Houston this week for two very special events at landmark retailer Bering's.
On Thursday, Nov. 15, from 6 to 9 p.m., Lord Wedgwood takes part in The Rise School of Houston's "Gifts from the Heart" 13th-annual shopping extravaganza, taking place at Bering's, and benefiting Houston's renowned school for serving young children with disabilities in an integrated environment.
On Friday, Nov. 16, Lord Wedgwood returns to Bering's from 11a.m. to 3 p.m. to present and sign pieces from the Wedgwood and Bentley collection, which features iconic tableware and home décor pieces mixed with contemporary classics, designed to embody modern luxury. And to be a downright spectacular addition to any discerning wedding registry—hint, hint.
Oh—and did we happen to mention that Bering's is one of just FIVE U.S. retail stores selected by WWRD Holdings (Wedgwood's parent company) to unveil the new Wedgwood and Bentley collection? The store was chosen, Lord Wedgwood says, because "Bering's represents one of the most unique retail concepts in the United States. For generations, this one-of-a-kind treasure has offered an incredible array of luxury items for the home, and upscale gifts including Wedgwood china and crystal." What's more, he adds, "Bering's is an excellent place to find gifts for everyone on your list, and they also offer the old-fashioned kind of service that seems near extinction."
We'll second that!
While you're marking these wonderful events on your calendar, here's the scoop on which Wedgwood and Bentley piece's are Lord Wedgwood's personal favorites, in his own words:
"One of my personal favorites is 'Black Astbury,' an iconic Wedgwood pattern that first appeared in the early 20th century. It is characterized by a rich, opulent design motif that is hand-decorated with raised paste-work and 24K-gold gilding. Each Black Astbury dinner plate can take up to 10 hours of work to complete. I also love the iconic Wedgwood 'Pure Gold' pattern that is based on the traditions of acid-etched decoration and hand-applied gilding. Pure Gold embodies a minimal but luxurious aesthetic."
Fabulous. We can't wait to see the new collection, and meet YOU at this week's Bering's events!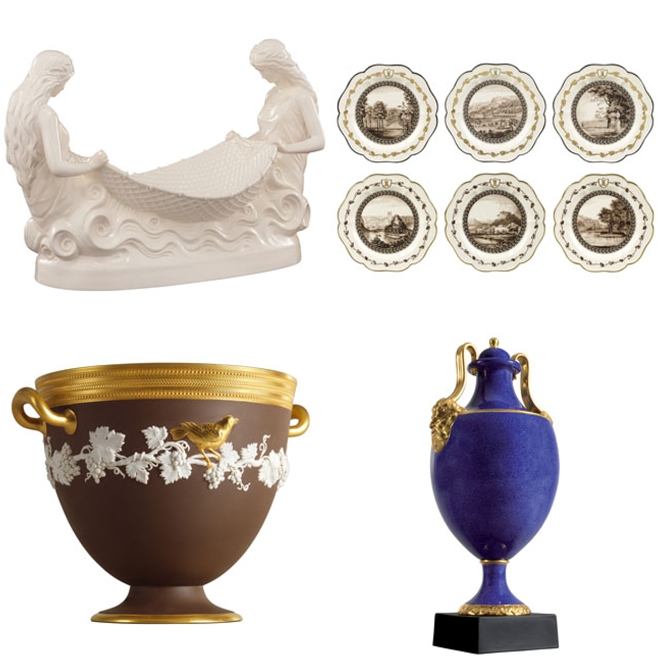 Photos: Courtesy of WWRD