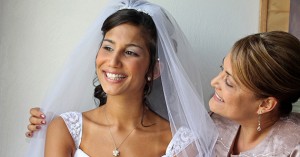 Your wedding day will be your moment in the spotlight. But you may be able to score a little TV coverage before that!
The producers of ABC's hit "Dancing With the Stars" are filming a brand-new, "upscale" reality show at Houston's own T Carolyn Fashions this Friday, Saturday and Sunday (Jan. 7-9), and they're looking for mothers and daughters to participate. For those of you who aren't familiar with T Carolyn, it is where Houston's (and many of the entire country's) most fashionable mothers-of-the-bride (and groom) go to find the perfect dress or ensemble to wear for their daughter's (or son's) big day.
To be eligible to participate in the filming, brides MUST accompany their mothers. Dancing, however, is not required. And just so you know, T Carolyn will be open for regular business during filming dates.
For information, call 281.440.4696 or e-mail.