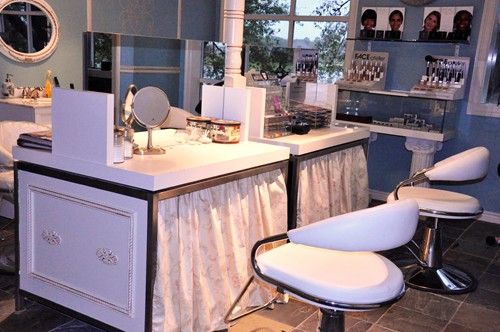 Plenty of salons and makeup artists offer bridal hair, nail and makeup packages. A few throw in pre-wedding skin care, massages and other spa services. But only one Houston beauty expert is also a licensed professional counselor and life coach, and a trained portrait photographer, with her own line of custom-blend makeup products AND a 2,700-square-foot "world-inspired" beauty and wellness studio that can accommodate groups of up to 12.
She's Sarah Ali, owner of The Transformation Studio, and she makes it her mission to provide brides with everything they need to become their beautiful best, from the inside out.
Looking to get in shape for your figure-hugging wedding gown, and have a little fun while doing it? Ali's studio offers international dance classes, from Bollywood to belly dancing, and Zumba, too! In need of some pre-wedding pampering? Go for one of the studio's signature treatments, like the Indonesian Oasis Facial of Himalayan Head Rub (absolutely heaven, by the way). Desperate to defuse bridal-party quibbles? Ali says she's only too happy to "bust out my therapist techniques" and entertain your grousing group with tales of "my tragic yet hilarious man troubles" (they, and Ali, were featured on the front page of the Chronicle Lifestyles section last year—and are, indeed, LOL funny).
All that, and she'll give you that gorgeous tousled updo, subtle smoky eye, flawless skin and perfect matte-red lip you're lusting after for your bridal look, too.
She and her team of eight fabulous freelance experts are happy to host you at their place, or yours. Call her at 281.240.7102 or e-mail to schedule a consultation.