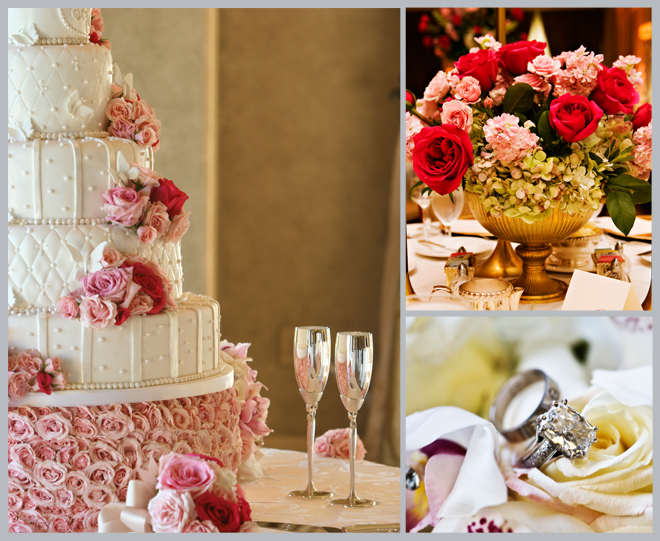 Photos: Top, courtesy Karen For Your Memories~Centerpiece, D. Jones Photography~Rings & Cake, Nhan Nguyen Photography
Today we're really excited to feature a guest post from Houston-based Master Bridal Consultant (that's the Association of Bridal Consultants' highest ranking, btw), Karen Brown of Karen For Your Memories. Thinking of acting as your own wedding coordinator, florist, designer and decorator, to try and save money or put your unique imprint on every element of your big day? Don't dive in until you read Karen's post, which debunks many major DIY myths. We'd love your feedback, too! Do you plan DIY all or part of your wedding? Which parts do you plan to leave to a pro? Drop your comments and let us know!
Today's brides are bombarded with ideas for décor, favors, desserts, flowers, etc., many of which encourage the DIY concept. For some reason the DIY idea is touted as something that is supposed to be 1) fun, 2) less expensive, and 3) a reflection of the bride's unique personality. But is this really the case?
Fun? "Do-it-yourself" can be a misleading title, which implies that the bride herself is going to take on all or part of the tasks necessary for the production of her wedding. However, in most cases, it really means relying on the participation of the wedding party for tons of tasks, along with dutiful assistance from family members, with the bride directing. But can a group of amateurs with good intentions really replace the expertise and efficiency of a professional with years of experience? AND have fun while doing so? Not likely.
Sure, it can be great fun for family members or friends to get together to address, stuff and stamp invitations, or for "the girls" to gather, chat, eat, drink and laugh while assembling bags and tying ribbons around guest favors. But what if you happen to be the "volunteer" who was recruited for some element of the event that ends up in a YouTube video that never seems to go away (dreadful décor, cake catastrophes, flower fiascos, musical malfunctions…you get the picture)? Surely it can't be much fun  to be ridiculed internationally when you were just trying to help.
Less Expensive? Yes, professional wedding services cost money. Just like professional medical services, professional auto repair services, professional legal services—or any professional service that is based on years of specialized education, training and experience. Let's consider the service of wedding flowers as an example. Here are just a few of the things you'll get for the money you pay a respected professional Houston florist:
Personnel who order the exact flowers you want from the part of the world where they are at the peak of their season at that time of year.
Staff who pick up and transport the shipped flowers in special vehicles at special temperatures to preserve their freshness and beauty.
Staff who put the flowers through a series of processing procedures to activate the opening and enhance the longevity of the blooms.
Experienced designers who use complex techniques to create exactly the look you have requested, ensuring that the designs will withstand handling and last beautifully through the day.
Specifically controlled refrigeration to store the completed floral arrangements until set-up time.
A team to deliver, set up, and, after the event, remove all props and arrangements, in the allotted venue time (while you're getting primped, dressed and enjoying unforgettable pre-ceremony moments with friends and family).
On the other hand, DIY flowers often begin with inferior product that are not handled correctly and sometimes need to be replaced before the event, are not designed in the most flattering or stable way, are not stored or delivered in the proper temperatures, cannot be properly set up in the allotted time allowed, and most likely will not hold up through the entire event. And what about all those vases and containers and votives? What will you do with them once the reception is over?
A similar scenario can be applied to any professional wedding service. You get what you pay for if you use reputable, experienced professionals. And you're likely to save money in the long run. Remember that cost is relative. What price do you put on being able to relax and enjoy your special day instead of working and worrying?
A reflection of the bride's unique personality? I like reading and viewing wedding information on the internet—especially the Houston Wedding Blog—as much as (or maybe more than) the next person. But your wedding is your wedding. The best way to achieve an original look is to hire professionals with the talent to take your inspiration and create something fresh and exciting, someone who makes each wedding tell a different story, not the same story in a different color.
Maybe we should redefine what we mean by DIY.  Don't Impel Your friends and family to participate in anything but the joy of the ceremony and the celebration of the day. Do Invest Your money on quality services provided by those who do things the right way. You will save time and avoid costly mistakes along the way. Definitely Interject Yourself into all aspects of your wedding and hire professionals who can interpret and bring to beautiful life your vision while you relax and enjoy the process.