Today we feature the second installment in our style-advice series just for mother-of-the-bride and mother-of-the-groom, from MOB/MOG-style expert Terrie Tibbetts Martin of Houston's incomparable T. Carolyn Fashions. Today's post looks at how to dress and accessorize to best effect for all those pre-wedding special occasions that fill your—and your mom's—calendar during the months leading up to the big day. Our suggestion? Taking mom out for coffee (or cabernet, if that's how you gals roll), pulling up this post on your tablet or mobile, and enjoying every little bit of it together. Cheers!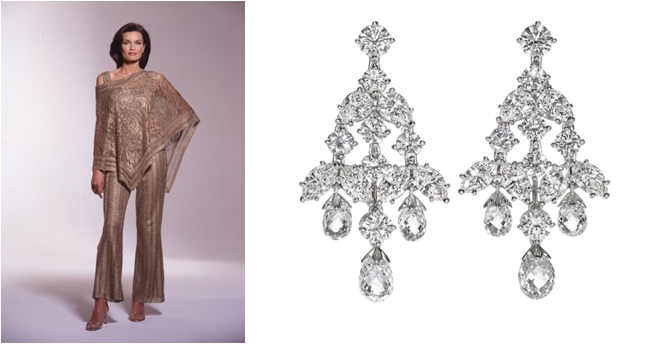 From Terrie Tibbetts Martin:
"With all of those pre-wedding parties and events coming up you'll want to look your best. Remember, as a mother, you're an integral part of the celebrations. By putting thought early on into what you will wear to the engagement party, bridal showers and rehearsal dinner, you won't find yourself grabbing something out of your closet at the last minute.
When deciding on the outfits you will be wearing, consider the locations of the events and the time of day each event takes place. Evening gowns and cocktail attire reign supreme for engagement parties, but if a more casual venue has been decided upon for either the engagement party or the rehearsal dinner, you might consider a contemporary short dress.
Another superbly stylish choice? The elegant pantsuit—currently a major fashion trend. The beauty of the pantsuit is that it affords great comfort and mobility (qualities highly appreciated by moms) as well as styles that flatter many different body types. These pieces also transition beautifully from day to night with the proper accessories.
What's great about a short dress or pantsuit, is that it can later be worn to a cocktail party, business dinner, or perhaps on a well-deserved cruise after the nuptials are over and you desperately need to relax and unwind.
On to accessories: One of the biggest mistakes mothers make is in breathing a sigh of relief over finding the right dress for the wedding and outfits for the pre-wedding events—only to completely overlook the accessories.
Which is a shame, since accessories are to a mother's dress what a frame is to a painting: They complete the picture and draw they eye in.
JEWELRY: Necklaces and earrings add sparkle and illumination around the face as you walk down the aisle or are viewed from across the room. The proper earring can bring out cheekbones and showcase bone structure, actually giving a lift to the face. The perfect necklace can frame the face and even elongate the upper torso. If you are wearing an asymmetrical neckline, great earrings paired with an oversize bracelet will truly make a statement. And, of course, there's nothing like the sparkle of crystals to bring out and enhance hand-beading and sewn crystals in dresses and gowns.
PURSE: Be sure to include a purse in your ensemble–especially for the wedding. You will definitely want a handkerchief, compact and lipstick, for drying tears and touching up after the ceremony, before additional photos are shot. A chic clutch, especially, will look smart walking down the aisle and has the added bonus of keeping your arm in check as you are escorted.
SHOES: Whether it's for a pre-wedding party or the wedding itself, be sure to choose comfortable shoes. For those with serious foot problems, it is perfectly acceptable to slip into a second, more comfortable pair at the reception, but, if you are wearing a gown, do check beforehand to make sure your hem will still be the proper length if you change into comfy flats. This will avoid possible tripping and damage to the gown itself. Speaking of damage, if you choose a shoe with rhinestones on it, make sure to check and see if the stones are set in prongs. These prongs will snag and tear the hemline of your gown. If this occurs, the only way to salvage the gown is to convert it into a short dress.
With a bit of planning you can look beautiful and put-together for all of your upcoming festivities. And feeling really good about yourself will make all of your events far more enjoyable and will create a radiance all of your guests will notice—and your photos will capture for all time."
For more on T. Carolyn Fashions, click here. Ready to visit the salon? No appointments are necessary…just pop in and shop happy!
Photos: Courtesy of T. Carolyn Fashions