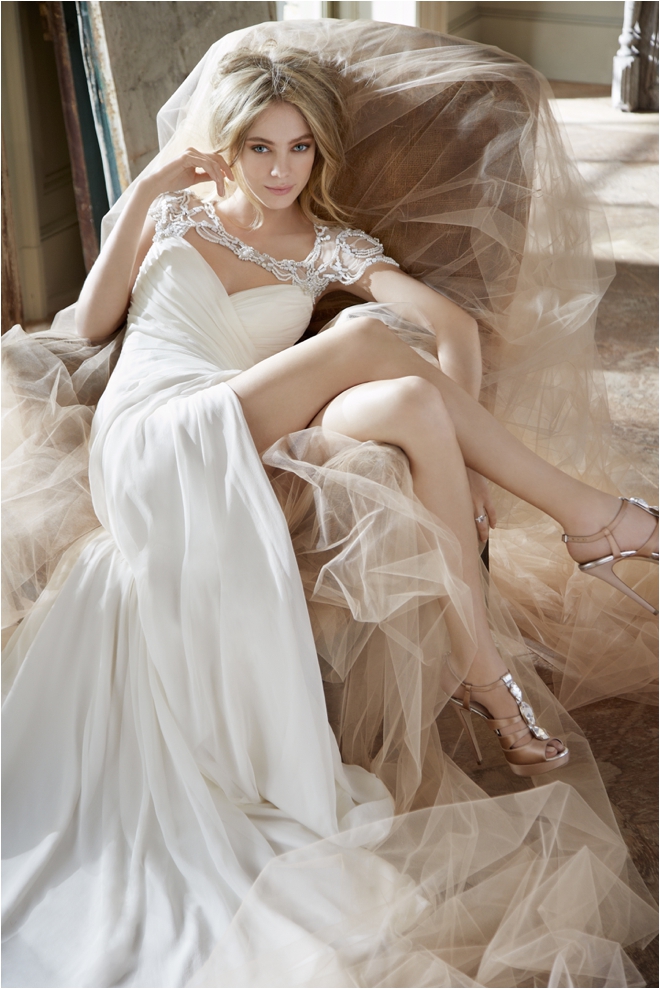 Photos: JLM Couture
This week, Now & Forever Bridal Boutique welcomes a very special guest—the insanely talented Hayley Paige—for three days of Spring 2013 glamour and gorgeousness. The fun kicks off with Now & Forever's Hayley Paige Bridal Bliss event on Thursday, Jan. 24, featuring chilled Champagne, scrummy nibbles, and, best of all, a preview of the super-hot designer's much-lauded Spring 2013 collection, hosted by none other than the lovely Hayley Paige herself. On Friday and Saturday, Paige sticks around to offer personalized gown customization and styling tips, at a two-day trunk show that's bound to draw brides in droves—which means you'd better make your
appointment right about now!
Then sit back and enjoy HWB's exclusive chat with rising star and JLM Couture darling Hayley Paige (who, we've gotta say, is just about as sweet as her gowns are drop-dead gorgeous).
Houston Wedding Blog: How did you get your start in bridal design?

Hayley Paige: The bridal design process is not only extremely heartfelt and feminine, but there is a marvelous sense of fairytale. I grew up idolizing Disney princesses and a grandmother who taught me how to sew and bake at a very young age. Design was a natural and inescapable practice.
Prior to coming on board at JLM Couture in August of 2011, I dabbled in ready-to-wear, but solidified my main attraction to the wedding industry by designing for Melissa Sweet and Marchesa at Priscilla of Boston. Bridal is my shtick, and when I had the opportunity to come to JLM, there was a natural sense of creative magnetism and a prospect for a niche aesthetic. We launched the first Hayley Paige season that October. It was a fast and fabulous start!
HWB: What are some of the signature qualities or features of the Hayley Paige bridal collection?

HP: I strive for the collection to have personality and enthusiasm, so I embrace a lot of textural charm. I also focus on an execution of balance between fanciful and polished.  Whether it's applying a delicate eyelet trim to sheer organza flounces or pairing a plunging neckline with a ballet ballgown skirt, the collection explores the most sophisticated aspects of femininity and also dabbles into edgier elements. The look is lively, fresh and happily refined.
HWB: Tell us a little about your spring 2013 gowns—what's wonderful about this season?
HP: I had a lot of fun with beaded boleros and interchangeable skirts last season, so I will definitely continue to incorporate that type of versatility into the upcoming collection. I also hope to make a strong statement with regards to textural juxtapositions like strong versus soft, twinkle versus matte, and modern vesus organic. You can count on oodles of chunky beading, sheer elements and ombré accents of color.

HWB: What are a few of your favorite Hayley Paige Spring 2013 gowns? What do you love about them?
HP: Guindon, the striped organza ball gown, was my favorite gown from last season. I am ignited by gowns that push the envelope and are aesthetically directed for brand definition. There is a decent amount of style saturation in the industry, so it's important to focus on a fresh presentation and take a few risks. As in love and relationships, reliability is important, but it's the spontaneity and wow factor that give you those butterflies in your stomach.

HWB: What are you looking forward to most with your visit to Now & Forever Bridal Boutique this week?

HP: Getting better acquainted with the Houston bride! I love having different demographics to learn from and appreciate. Bridal design not just about creativity and delivering an aesthetic, there is a psychological factor in truly understanding what type of bride you are catering to; who she is and what will keep her on her toes.