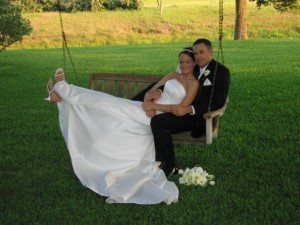 Planning a wedding can be a stressful experience. Your wedding weekend shouldn't be one. We love that The Phoenix Special Events Facility lets you buy out the entire site, including rustic-elegant event space, plus three charming bed-and-breakfast guest rooms, for an entire four days, at a very pretty price.
That means that you get from Thursday to Sunday to put the final touches on, fully enjoy, and even recover a little bit from your special day. And if you want to have all your wedding-weekend events in one place, you can do that, too. And what a place it is: 75 acres of picturesque countryside in Weimar, a mere 80 miles from Houston. You can enjoy a private pre-wedding celebration with your nearest and dearest, and the next day exchange your vows beneath a canopy of leafy oak boughs beside a sparkling lake, then dine and dance the night away, even treat your guests to a spectacular fireworks show, before retreating with your new hubby to the comfort of your private guest room. Without ever getting in a car.
The Phoenix is very accommodating to vendors, too—bring all your own, or use theirs. Owner and event coordinator Bruce Koehn is on hand to help you plan everything from start to finish, or simply help ensure that all runs smoothly on your big day. If you're looking for comfort, relaxation and oodles of Southern hospitality for your Houston-area wedding, you really oughtta check out The Phoenix. Call Bruce at 979.733.0304 to schedule your visit—and tell him you found The Phoenix on the Houston Wedding Blog!