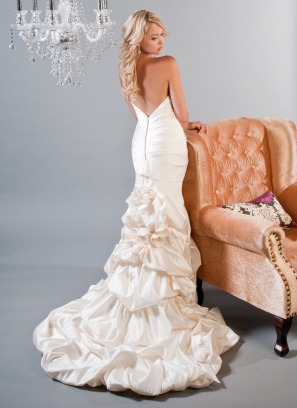 She loves outfitting women for the most important milestone celebration of their lives. And now she's celebrating a milestone of her own. We're so happy to wish Winnie Chlomin, and her beloved bridal design house Winnie Couture, a very happy 10th anniversary. That's ten years of stunning gowns, ten years of beautiful brides, ten years of success that all started right here in Houston, with Winnie Couture's flagship salon.
She may have branched out to Beverly Hills—with, incidentally, one of the loveliest stores around in a town full of high-glam bridal salons and high-profile clients. And, of course, there's Winnie Couture's many star turns on wedding TV, including "My Fair Wedding," "Bridalplasty" and, coming up later this month, the CW's "Shedding for the Wedding." But through it all, Winnie has stayed true to her Houston brides, whom she calls "chic, confident and fun," not to mention fashion savvy and very discerning when it comes to wedding attire (but then, you knew that, didn't ya?).
What else is new for Winnie Couture in 2011? "This season is all about romantic and whimsical styles," the designer says. Look for "light, flowing fabrics with layers of ruffles and tulle," plus "delicate dreamy rosettes with glints of sparkle" that evoke "glamour in a fresh, organic way."
…and, cue the collective swoon.
Here's to another 10 years of Winnie Couture. Congratulations, Winnie!