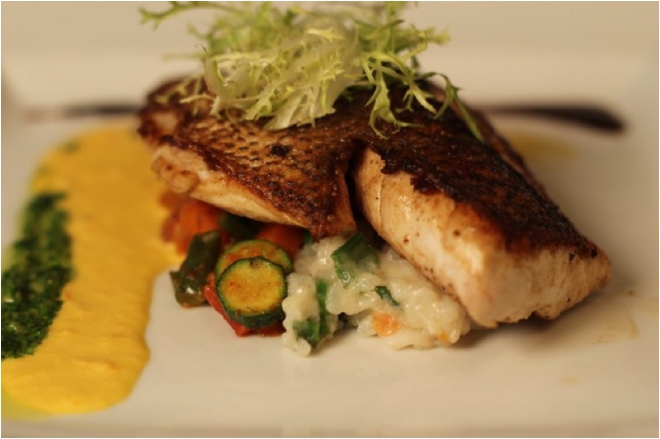 Mmmm…Masraff's! This landmark Houston dining establishment is consistently ranked as one of the city's finest restaurants—but, honestly, you've gotta taste it for yourself. Even better: Taste it for yourself for FREE, by winning today's one-day-only giveaway.
Yup, one lucky bride who buys her tickets to next Thursday evening's I Do! Bridal Soiree at The Corinthian—the perfect antidote to a whirlwind season of big bridal shows, and just about the most lavish Happy Hour you'll ever hope to attend—will score a $100 Masraff's gift certificate, good for a decadent dinner for two. Garlic-seared calamari, caramelized diver scallops, pan-roasted escolar and a perfect filet mignon are just a selection of the impeccably prepared dishes you'll encounter at this classic Houston seafood-and-steak spot, along with irresistible desserts, fine wines and an ideal environment for dressing up pretty and making goo-goo eyes across the table at your groom-to-be. Aww, you've gotta love THAT.
And don't forget—Masraff's is also an amazing place to wine and dine special guests for your rehearsal dinner or engagement party. Looking for that incomparable Masraff's flavor for your wedding? Consider tying the knot at The Wynden, Masraff's exclusive Tuscan-style venue, where the focus on food is second only to the focus on…YOU!
TO ENTER TODAY'S GIVEAWAY: 1.) Purchase pre-sale tickets BY 11:59 p.m. TODAY, THURS., APRIL 4, to the I Do! Bridal Soiree at The Corinthian 2.) *Like* us on Facebook.
That's it! We'll notify our randomly selected winner next week!!
Photos: Masraff's