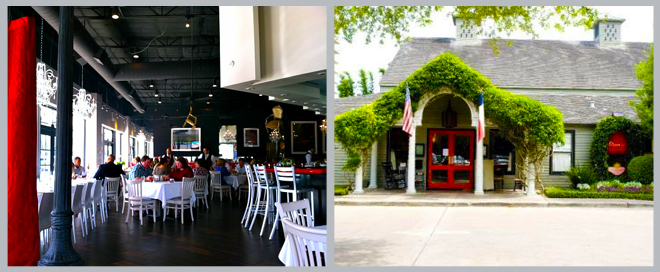 Photos (left, The Bird and the Bear Bistro; right, Ouisie's Table) Courtesy Ouisie's Table
What's more delicious than fantasy wedding tablescapes, Italian delicacies, fine wine and bubbly, live entertainment, and more than 35 of Houston's finest wedding experts and vendors gathered under one gloriously regal roof? All that and a $100 dinner for two at one of Houston's hottest dining spots—The Bird and the Bear Bistro, from the fine folks at Ouisie's Table.
A word about Ouisie's Table—this beautiful Highland Village restaurant, composed of numerous indoor and outdoor dining and celebration spaces, is one of our favorite spots for rehearsal dinners, bridal lunches, day-after brunches, and yes, intimate, elegant, cuisine-focused weddings. While each room has its own unique personality and ambiance, Ouisie's service and upscale Southern-with-a-twist food are uniformly flawless.
Which is why we were so excited when Ouisie's debuted its exciting new Westheimer bistro, The Bird and the Bear, last fall. Never been? Think chic black-white-and-red room, bistro fare (escargot, foie gras, roasted salmon), and plenty of Ouisie's Southern influence. Want to win? We're giving away dinner for two (a $100 value), to one lucky bride who 1.) snaps up her I Do! Bridal Soiree @ The Corinthian tickets by midnight tonight and 2.) *likes* us on Facebook.
All brides who have purchased I Do! tickets between start of presale and midnight tonight are entered to win. Winner announced Wednesday on Facebook. Good luck, brides.
And we look forward with great pleasure to meeting you on Thursday!