The bling thing is so hot for 2011 weddings, if Swarovski weren't family owned, we'd buy stock in 'em. The ubiquitous Austrian crystals and rhinestones are showing up on everything from invitations to linens to cakes (a la Susie Edwards' dazzler on display at October's I Do! Bridal Soiree @ ZaZa).
As for wearable sparkle, designers are doing amazing things with bling—from crystal- and rhinestone-encrusted belts and bodices to tiers of tulle sprinkled with tiny crystal beads for a dreamy, fairytale effect. But our hands-down favorite use of sparkle is on bridal footwear.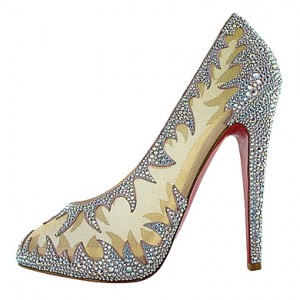 Cinderella knew the effect of a twinkling shoe. Dorothy's helped her find her way home. Your sparkling wedding-day shoes may just create a little magic of their own. At the very least, they'll look incredibly glamorous peeping out from beneath your bridal gown.